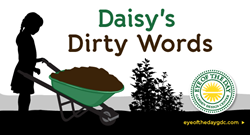 Carpinteria, California (PRWEB) March 04, 2014
As part of its social media and online revamp, Eye of the Day Garden Design Center announces the release of its newly redesigned blog called Eye on the Garden.
The blog, which has been online since the year 2010, regularly features four writers, owners Brent Freitas and Suzi Freitas; Sarah Kinbar Ristorcelli, and Virginia Hayes. Categories include the following: Adventure, Edibles, Fountains, Garden Décor, Good Times, Landscape Architecture, Planters/Pots/and Containers, and Plants. The platform showcases the staffs' personal insight into styling gardens, and takes a deeper dig into the personality of the design center that's beloved by locals and by bigger names that include Tommy Bahama, Ralph Lauren, DIY Network, and more.
The blog offers information that the average gardener would not be privy to – for instance, as detailed in the latest blog post by Brent, "Just Say Yes to Rocco Italian Terra Cotta". In it, Brent explained why Rocco Italian terracotta is so coveted by industry garden design gurus and landscape architects in that the clay can withstand extremes in high temperatures as well as low. For this reason, Eye of the Day prefers to sell products of Galestro clay, which is sourced from Tuscany and produced by Colorobbia of Montelupo, providing durability and a specific high quality composition of mineral content.
"I want my customers to see that we not only sell the best products, but we also stand behind them, and for good reason. I travel to find the best products, and I've done my research. Home accessories, for indoor or outdoor use, really make a house a home," says Brent, "and speak to our motto 'Paradise at Home.'"
In addition to the updated blog interface, the Santa Barbara Garden Design Center is also re-launching its once active newsletter, Daisy's Dirty Words, now in e-newsletter form. Customers and interested individuals can sign up for the newsletter online with their email, and get the latest news, specials, and tips-of-the-gardening trade sent right to their email inbox, in both desktop and mobile compatibility form.
"The blog, as well as Eye of the Day, is named for our daughter, Daisy, old English for "Day's Eye", the flower resembling the sun. We understand the enthusiasm of die-hard gardeners because we're the same way," concluded Brent. "It's what makes us, us. It's why I get up every day near 5 a.m., before the sun, to get a jump start on the day."
For more information about Eye of the Day's blog and other social media, visit http://www.eyeofthedaygdc.com.