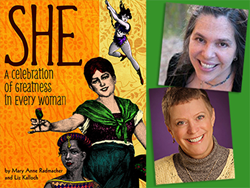 (PRWEB) March 04, 2014
Mary Anne Radmacher and Liz Kalloch, both artists and authors of She: A Celebration of Greatness in Every Woman appeared on the radio show On Purpose Radio to discuss their new book, which is releasing on March 8th, International Women's Day.
In the interview, Mary Anne says, "In the writing of SHE I wanted it to be beautiful, and I knew partnering with Liz as the co-author, the visual presenter that it would be beautiful. I wanted a reader, male or female to be able to open it at any point and feel as if they were reading a love letter or piece of information and inspiration that was prepared precisely for them."
Liz describes her inspiration for the images in the interview: "Thinking about how we look at ourselves as women, how we look at other women, sometimes with too strong a critical eye and I think that the thing that appealed to me about using these vintage images that I hand colored was that we can't necessarily see our modern self in these women and yet we're still there. So there is not an identifying with body shape , or body type, or skin color, or any of those things that as humans we look at in each other."
Join Mary Anne Radmacher and Liz Kalloch at these upcoming events:
3/4: East West Bookshop, Mountain View, CA - 7:30pm
3/5: Book Passage Marin, Corte Madera, CA - 7pm
3/6: Towne Center Books, Pleasanton, CA - 11am
3/8: Native Sons of the Golden West, Napa, CA - 10am-3pm
3/11: Annie Bloom's Books, Portland, OR - 7pm
3/12: St. John's Booksellers, Portland, OR - 7:30pm
3/13: New Renaissance Books, Portland, OR - 7pm
3/14: Third Place Books, Lake Forest Park, WA - 6:30pm
3/15: Barnes and Noble, Downtown Seattle, WA - 2-4pm
3/15: University Bookstore, Seattle, WA - 6pm
3/16: Branches, Auburn, WA - 1-3pm
3/28: Auntie's Bookstore, Spokane, WA
What people are saying about She (available as an audiobook):
"This boldly unique book champions powerful women and affirms the inherent power within every woman. Part cheerleading, part mentoring, the authors augment their own wisdom with guidance from an all-star lineup of noteworthy women, including Emily Bronté. Hillary Clinton, Oprah Winfrey, Eleanor Roosevelt, Maya Angelou, Katherine Hepburn, and Rachel Carson. There are reveries on the characteristics of strong women (purposeful risk taker, intrepid traveler, nurturing, willing) and letters addressed to each of those aspects within the reader. All of it is encased within beautiful illustrations which make each page a stand-alone work of art."
—Anna Jedrziewski, for Retailing Insight
"They hit the mark with this very readable, beautifully written and illustrated book. Women of any age should find reading She an uplifting experience."
—ForeWord Reviews