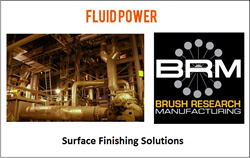 From March 4 to 8, 2014, visit BRM in Booth 82533 at the Las Vegas Convention Center, site of co-located tradeshows: IFPE 2014 and CONEXP-CON/AGG.
Los Angeles, CA (USA) (PRWEB) March 04, 2014
Brush Research Manufacturing (BRM), maker of surface finishing and deburring tools, is announcing flexible hones for the fluid power industry. The California company's Flex-Hone® tools are used by pump manufacturers to improve surface finish and remove burrs at the same time. Makers of pneumatic and hydraulic cylinders also use flexible honing tools for burr removal and cylinder wall surface finishing.
A form of power transmission, fluid power uses a liquid (typically an oil) or a gas (usually compressed air) to convert and distribute power while providing high levels of force and torque. Fluid power systems use pneumatic or hydraulic cylinders to produce linear motion, and can transmit levels of power that are equivalent to those of electrical and mechanical drives.
Flex-Hone® Technology for Cylinder Surface Finishing
A flexible, resilient honing tool with a soft cutting action, the Flex-Hone® features a low-pressure, low-temperature abrading process for burr removal and surface improvement. With their flexible nylon filaments and abrasive globules, Flex-Hone® tools are also known as ball hones or cylinder hones. BRM brush tools mount in most spindles and can be used with handheld power tools or machine centers.
Unlike rigid hones, Flex-Hone® tools are self-centering, self-aligning to the bore, and self-compensating for wear. Flexible hones are not designed for heavy-duty material removal, however. Instead, these high-quality deburring brushes remove torn, folded and jagged metal while gently smoothing cylinder walls and leaving the base metal undisturbed.
Fluid Power Applications
Hydraulic cylinder manufacturers use flexible hones to produce a plateau surface finish for optimum lubrication. By eliminating surface irregularities and reducing peaks to a uniform height, cylinder hones reduce oil consumption and support the anti-wear performance of hydraulic oils. Pneumatic cylinder and pump manufacturers also depend upon Flex-Hone® technology.
For example, when small burrs in aluminum sleeves required costly and time-consuming manual deburring, a maker of pneumatic-driven liquid pumps chose Flex-Hone® tools to speed operations and improve surface quality. After the metal sleeves are machined and drilled, flexible hones are mounted in a standard drill chuck and used to remove miniature burrs that could damage the liquid pump's O-rings.
Visit BRM at IFPE 2014 and CONEXPO-CON/AGG (Booth 82533)
From March 4 to 8, 2014, visit BRM in Booth 82533 in IFPE – South Hall 3 at the Las Vegas Convention Center, site of co-located tradeshows. IFPE 2014, the leading international exposition for fluid power, will meet CONEXP-CON/AGG, where the construction industry discovers emerging technologies and innovative equipment.
About Brush Research Manufacturing
Brush Research Manufacturing (BRM), makers of flexible honing tools and deburring brushes, is located in Los Angeles, California. For over 55 years, BRM has been solving difficult surface finishing problems with brushing technology. BRM's Flex-Hone® tool is the industry standard against which all other surface finishing solutions are compared.
Media Contact:
Heather Jones
Director of Marketing
Brush Research Manufacturing Co. Inc.
4642 Floral Drive
Los Angeles, CA 90022
HJones(at)brushresearch(dot)com
For Immediate Release:
http://www.brushresearch.com/
Ph: (323) 261-2193