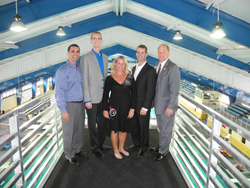 The YMCA of Central Florida is greatly thankful for David DeCurtis and his team for helping to make the Dive Platforms a reality for the Dive program at the YMCA Aquatic Center.
Orlando, FL (PRWEB) March 04, 2014
Olympic diving hopefuls in the central Florida area and across the southeast have had a limited number of options for locations to train. Due to the requirements for Olympic training, it is often difficult to find a dive center with the proper facilities to help young athletes compete at the highest level. When the YMCA reached out to DeCurtis Corporation as the technology partner in the effort to refurbish the 10-meter dive platform, the firms' foundation, David DeCurtis, saw an opportunity to contribute beyond the technology that the firm is known for.
"First of all, working with the YMCA in any capacity made perfect sense as the shared values of integrity and a commitment to excellence are foundational to us at DeCurtis Corporation," said DeCurtis. "This was also a great opportunity to help support the Central Florida area as a 10 meter dive platform is a rare asset that Central Florida cannot afford to lose. The original platform had been completed in 1985 and performed admirably but it was time for a rejuvenation," DeCurtis continued.
The Diving Center which is part of the much larger YMCA Aquatic Center is led by former Olympian Mark Ruiz. Coach Ruiz was named 2000 US Olympic Committee Male Diver of the Year and is a 2 time US Diver of the Year. A 22 Time US National Champion, Coach Ruiz remains among the top 5 most accomplished medal winning divers in American history. With a strong staff of coaches to support the goals of the YCF Diving program, one piece that was missing was literally the right "platform."
"The original mock ups designed by local designer Brett Conroy leveraged some great international brands but when we were working with the team it seemed as though time was of the essence. I felt a local partner that was directly connected to this community might make things happen more quickly," DeCurtis continued.
The official unveiling of the newly designed and renovated dive platform was on December 7th at an event that featured a visit by 1984 Olympian and Central Florida native, Rowdy Gaines. Since completion the platform has provided the proper facility to train countless young prospects and future Olympians.
Daniel Ickes, Executive Vice President of Operations for the YMCA of Central Florida commented, "The YMCA of Central Florida is greatly thankful for David DeCurtis and his team for helping to make the Dive Platforms a reality for the Dive program at the YMCA Aquatic Center. His leadership and commitment to see this project through was greatly appreciated. The new renovated Dive Platforms are a wonderful addition to the newly renovated Facility."
While we are not sure anyone on the DeCurtis team will have the courage to go off the high dive we know the entire team supports the athletes who do in their pursuit of either better fitness or of Olympic gold.
About YCF Diving
YCF Diving Team began as Team Orlando Diving (TOD) – established in 1985. Champions such as Mark Ruiz, Bryan Gillooly, Lenny Leyland, Matt Bricker, Brittany Viola and many more have come from this prestigious program. In 1996, the team was turned over to Coach Jay Lerew, who coached USA Olympian Mark Ruiz, the current YCF Diving head coach. TOD has won Junior National Team Titles from 1996-2003. On August 30, 2010 TOD affiliated with the YMCA of Central Florida (YCF) and Mark Ruiz was named head coach. The team has grown leaps and bounds over the past year and is looking forward to continued growth for the 2011-2012 season. This year, YCF Diving has four divers receive scholarships at NCAA Division I schools.
About the YMCA of Central Florida
The YMCA of Central Florida is one of the area's largest nonprofits committed to strengthening the local communities it serves in Orange, Seminole, Osceola, Brevard, Lake and Marion counties. It is a diverse organization of men, women and children serving more than 100 neighborhoods and joined by a shared commitment to improve the lives of all in Central Florida. Each day about 27,000 Central Florida residents are impacted in three areas: youth development, healthy living and social responsibility. In 2012, this YMCA association of over 1,800 employees invested, during a down economy, $11.1 million in its local communities through neighborhood services. Also in 2012, the organization provided $9.2 million in financial assistance to children and families that resulted in lasting personal and social change.
About DeCurtis Corporation
DeCurtis Corporation is a U.S. based software development company dedicated to developing custom applications using Microsoft Technologies that help improve operational costs. The company was established in 1988 by David DeCurtis who has over 25 years of experience in the software industry. DeCurtis lends its partnership capabilities to companies large and small and prides itself on offering a clear communication model, transparency in project management and a dedication to customer service.