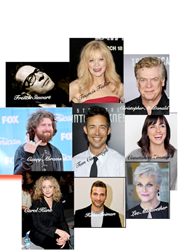 Los Angeles, CA (PRWEB) March 04, 2014
How do you turn a mountain of debt into an active volcano? Throw a family in.
Actor/Director Valerie Landsburg (Fame) and Producer Tani Cohen's (Mr. Conservative: Goldwater on Goldwater, The Dust Factory) dream to make a humorous and heartfelt movie about a family turned upside down by the father's concealed unemployment and growing credit card debt is getting some help from its devoted all-star cast. $500,000 is the goal of the Kickstarter "Offer & Compromise" campaign, which ends on March 13th. http://www.kickstartval.com.
"Offer & Compromise," written by Dylan Otto, will star Tom Cavanagh (Flash, Ed, How to Eat Fried Worms) as Henry Warner, the father who racks up considerable credit card debt rather than admit to his wife and kids that he had been terminated. Constance Zimmer (House of Cards, Entourage) plays Karen, his wife who wants a different life, and Frances Fisher (Resurrection, Titanic) as Karen's mother, who feels her daughter could have married better.
Musician and American Idol semi-finalist, Casey Abrams will make his film debut as Travis Parker, the young and inexperienced debt collector whose life becomes personally intertwined with the Warner family as they struggle to break free of debts -- both financially and emotionally. Christopher McDonald (Happy Gilmore, Boardwalk Enterprise), Carol Kane (Princess Bride), French Stewart (Mom, 3rd Rock From the Sun), Haaz Sleiman (Nurse Jackie) and Lee Meriwether (Batman, Miss America 1959) are set to round out the cast (http://offerincompromisethemovie.com/cast.html).
In vein of "Little Miss Sunshine" and "The Descendants", "Offer & Compromise" is a timely and relatable comedy/drama. The script written by Dylan Otto, inspired the cast members to go above and beyond the commitment of acting in the film. Each has anted up a backer reward with their own individual signature on it. The following are just some examples:
Tom Cavanagh– come screen the film with Tom and be his guest at the reception afterwards.
Constance Zimmer – is offering a personally inscribed, one-of-a-kind book containing her behind-the-scenes photography. She is also putting together a number of limited edition books, as well.
Casey Abrams - is contributing a free concert for up to 50 people anywhere in the United States and a surprise your loved one "Skype-a-Song." Additionally, he performed several free concerts in Los Angeles and New York to help launch and promote the "Offer & Compromise" Kickstarter campaign.
Frances Fisher – will treat a backer to lunch, along with Director Valerie Landsburg and Producer Tani Cohen, at her favorite LA restaurant Café Gratitude. She is also generously donating two "Titanic" Scripts autographed by herself and Leonardo DiCaprio.
French Stewart – is contributing a personal tour of Warner Bros Studios and set of "Mom," plus lunch. He is also offering to record a personal message on a home answering machine.
Christopher McDonald (Happy Gilmore, Boardwalk Empire) – is pledging a "Play a round of golf with Shooter McGavin" at an exclusive Country Club in Los Angeles.
Lee Meriwether – will autograph one of her Catwoman photos from the original Batman Movie.
Haaz Sleiman – Lunch and acting consultation at his favorite Los Angeles haunt.
Valerie Landsburg – Landsburg is offering her "High Fidelity" platinum single from the series "Fame." She is also providing a dinner in NY and one in LA, accompanied by some of the original "Fame" series regulars.
The cast members, schedules permitting, have also agreed to meet and take photos with backers at screenings/receptions in Maine, Los Angeles and New York. Other cast offers include: personal phone message recordings and on-set meet and greets.
"Offer & Compromise" is a production of A Day in the Life Films. Valerie Landsburg is directing, Tani Cohen producing the Dylan Otto script. Shana Landsburg serves as casting director.
To become a backer for "Offer & Compromise", please visit: http://www.kickstartval.com.
For more information, contact:
Erin Dittman
erindotdittman(at)gmail(dot)com