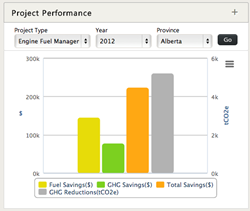 Calgary, Alberta (PRWEB) March 04, 2014
Cap-Op Energy, a leader in the field of carbon offset technology, is pleased to announce that their revolutionary Distributed Energy Efficiency Project Platform (DEEPP) will open to their charter members this March. The company will also begin onboarding new customers at that time.
Cap-Op's charter customers include ConocoPhillips Canada, Cenovus Energy Canada, Devon Energy Canada, Husky Energy and Taqa North Ltd. Prospective customers are encouraged to join this prestigious list of industry leaders.
Cap-Op will provide new customers with an analysis of their upstream oil and gas assets, as well as offer support in helping them plan and set their goals for reducing fuel gas and generating revenue from their emissions reductions. New customers looking to benefit from the DEEPP work with Cap-Op to integrate their equipment and operating data into the DEEPP so Cap-Op can initiate the quantification and verification of their fuel gas savings and carbon offset creation.
For customers in Alberta, Cap-Op is currently aggregating offsets for the following technology types:
-Engine fuel management systems, which convert rich burn engines into lean burn engines with better reliability through advanced fuel management.
-Vent gas capture systems, capture vented natural gas from worksites and direct it into engines, augmenting fuel consumption.
For customers in British Columbia, Cap-Op is currently aggregating offsets for High bleed pneumatic device conversions to Low bleed pneumatic devices.
The DEEPP is a cloud based platform, with no additional software required. A video demo of the platform can be found at http://www.capopenergy.com/solutions.html
For more information on the on-boarding process, new customers can reach out to Cap-Op at http://www.capopenergy.com/contact-us.html
Cap-Op Energy - Offsets Made Easy
About Cap-Op Energy:
Cap-Op Energy is a pioneer in the clean energy technology sector and is focused on making offsets easy. Co-founded by Keith Driver of The Prasino Group and Adam Winter, they have over 25 years of experience in the clean technology and Canadian GHG offset project development, regulation and implementation fields. The Petroleum Technology Alliance of Canada (PTAC) has agreed to support the DEEPP initiative through an official PTAC Collaboration project in 2012 as they recognize the potential to achieve more GHG reductions at a reduced risk by unifying accreditation efforts in a more standard and predictable way.