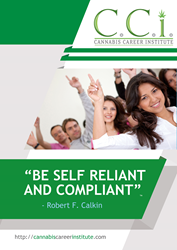 Florida is expected to Legalize Marijuana - Cannabis Business is expected to happen. Cannabis Career Institute is coming to Jacksonville to provide Professional Business Training for the Marijuana Industry.
Jacksonville, FL (PRWEB) March 04, 2014
With the filing of the Recreational Marijuana Bill proposal SB 1562, residents of Florida are looking at the potential to have recreational use Marijuana legalized in the near future. Making previously unheard of opportunities for Cannabis Businesses opening up, legally, within the Florida market areas - a very real possibility.
Because the legal organization of the Marijuana Business Sector is a newly forming process, the rules and regulations are being created as companies take over the market and introduce industry standards that follow individual state laws. Colorado and Washington states have provided the remaining states with valuable information regarding tax revenue potential and with the current economic crises most states are involved in, this may be considered a likely resource incentive for the rest of the United States. The value of Marijuana and Marijuana products providing extra revenue for city and state governments has politicians changing the public perception of Cannabis, for both recreational usage and medicinal use.
Cannabis Career Institute, which is a nationally recognized leader in professional training for the business side of the Marijuana Industry, has scheduled a workshop seminar for entrepreneurs and interested parties on March 8th, to be held at the Hyatt Place Jacksonville Airport location at 14565 Duval Road in Jacksonville, Florida.
Spokesperson and President for Cannabis Career Institute, Robert Calkin describes the classroom workshop as, "A valuable training session aimed at teaching students how to open a Marijuana Dispensary, a Marijuana Delivery Service or how to manage a Marijuana Grow Operation in a very organized business structure."
With many states facing unemployment issues, Cannabis jobs are expected to help the economy in the near future as Marijuana legalization is structured through the various states. As more individuals and companies focus on making profit, the Marijuana industry is expected to expand over the next couple of years into large corporate like entities. With those new businesses opening, a mass amount of job positions should be created which may help the current failing economy.
Class workshops taught by Cannabis Career Institute boast industry experts in specific fields that are related to Marijuana. Master Growers speak to the incoming students about nutrition, lighting, grow charts and expectations, while attorneys licensed to practice in the individual states discuss the legal aspects of getting involved in these types of businesses and ways to remain compliant to state regulations. The class also discusses Edible Operations and features recognized chefs who outline recipes, business operations and marketing techniques. Calkin, who oversees all of the instructors has been a Professor at Oaksterdam University and continues the tradition of keeping class workshops interesting, educational and very professional.
Calkin also describes how class students are taught how to prepare a business plan, designed specifically for a Marijuana Business and how to create collectives, cooperatives and other highly detailed business legal information that is important for entrepreneurs to understand, in order to open up any business of any type.
Eighteen states, plus Washington D.C. already have medical cannabis laws and two states have currently legalized the recreational use of cannabis. As this trend continues, the expectation of more businesses in the industry opening, is becoming more of a reality.
Since opening in 2009, Cannabis Career Institute has structured itself to become the Industry Standards Leader for Business Education and Management, modeling itself after state law and compliance.
Robert Calkin is also the author of "Starting Your Own Medical Marijuana Delivery Service: The Mobile Caregiver's Handbook" and is a sought after consultant in the Marijuana Industry. He has created a team of faculty members that represent the top leaders in Marijuana fields to be Instructors at the Workshops. Cannabis Career Institute has graduated over 2000 students recently and has been in the forefront of education for Cannabis Businesses.
Robert Calkin and his staff have agreed to hold press conferences or interviews during the entire day on Friday, March 7th, at the Hyatt Place Jacksonville Airport for media wishing to communicate with them regarding Marijuana Education and the Cannabis Career Institute. Please contact (800) 753-2240 to set up an interview schedule.
Staff Writer: Meki Cox, Cannabis Career Institute