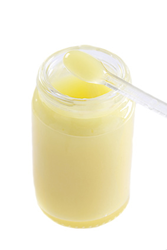 Royal Jelly is touted as a natural superfood by health advocates including David Wolfe and Dr Oz whose website calls it 'An anti-aging game changer.'
Sydney, Australia (PRWEB) March 07, 2014
Royal Jelly is an amazing natural superfood that may improve energy, skin, healthy nervous system health and general wellbeing.
Rich in vitamins A, C, and E, with B complex vitamins, minerals, amino acids and antioxidants, Royal Jelly is often referred to as a 'fountain of youth' – used for health and beauty.
Antony Adare, Director at Lifetime Health Australia said "Royal Jelly is consistently popular among Chinese and Japanese women who use it as a traditional energy and beauty supplement."
International markets – particularly Asia and the USA – enjoy Australian-Made Royal Jelly as the quality and integrity of Australian supplements is well known around the world.
"International buyers tend to buy in bulk when these items are on sale," said Mr Adare.
Royal Jelly itself is a secretion from the glands of bees used to raise a queen bee, whose productivity, longevity and reproductive ability sets her apart from other bees.
Royal Jelly is touted as a natural superfood by health advocates including David Wolfe and Dr Oz whose website refers to Royal Jelly 'An anti-aging game changer.'
The concentration of naturally occurring nutrients give Royal Jelly its superfood status.
Royal Jelly is a rich natural source of Vitamins A, C, D & E – all the vitamins recommended for skin health, rejuvenation and cell renewal.
It contains B-Complex vitamins that help support a healthy nervous system, manage stress and improve energy levels.
Royal jelly is a source of amino acids for tissue growth and cell repair and production and contains the essential elements potassium, magnesium, calcium, zinc, iron, manganese.
Along with anti-aging antioxidants, these factors make Royal Jelly one powerful natural nutritional supplement.
Enjoy 100% Australian Made Natural Life Royal Jelly this week and save 30% when you buy from lifetimehealth.com this week.