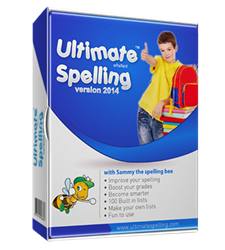 To help children become better learners they need to become better at concentrating...
New York City, NY (PRWEB) March 04, 2014
Spelling games are the best way to interest children in orthography, the Ultimate Spelling™ developers reveal. However, the use of tablets and other technological devices in education means children are also prone to the many distractions available through those electronic tools. These distractions take away the focus on the learning activity at hand, and a child's progress may be sabotaged without some help from parents.
In the latest blog post at the official Ultimate Spelling™ website, eReflect explains that the effort put into learning only pays off when the students is 100% devoted to a learning task. If distractions are not eliminated and the student is dividing their attention between smartphone chats, YouTube videos, and other online and tech-based distractions, then learning is hard to achieve.
eReflect reveals that a study on self-control has shown that children who are good at self-control and self-discipline are more likely to succeed in life as adults, thanks to this ability to zero in on what matters and devote attention and energy to each important project in turn. According to the study, multitasking can actually be a weakness, and become an inability to resist any momentary diversions.
To help children become better learners they need to become better at concentrating; this is a skill parents and teachers can help teach to students, both by setting a good example themselves, and by emphasizing the importance of distraction-free study environments.
Multitasking should be avoided, counsels eReflect. Rather, the child should be shown that distraction-free study periods are a priority. For example, if it's time for spelling activities, then the student should only engage with the spelling games or lesson. If it's time for the student to work on their grammar knowledge, then no other activity should be begging for the student's attention. While tech-powered education has many benefits, it's important to make students realize that focus and concentration are key to boosting their learning. Multitasking for adults is being glorified these days, especially in the fast-driven corporate world. But for effective learning, younger students need to learn to prioritize and focus on mindful educational practices.
For more information about how Ultimate Spelling software can improve spelling performance for you and your family, please visit the official website at http://www.ultimatespelling.com.
About Ultimate Spelling™
Ultimate Spelling provides a modern and easy to use spelling software that has been designed with one goal in mind – making children want to learn.
It is a fast and easy way to master even the most complicated spelling, without the need to write long lists or complete boring tests.
In fact, Ultimate Spelling provides more than just spelling help. It is a complete educational resource that boosts all level of a child's literacy.
Containing a personal computer tutor, Ultimate Spelling is the most realistic step-by-step guide to flawless spelling ability.