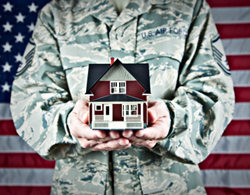 Orange, CA (PRWEB) March 04, 2014
The Broadview Mortgage Katella Branch is proud to announce that it has officially become a preferred lender with the Homes For Heroes Organization, and has currently partnered with a Homes for Heroes affiliate realtor. Homes for Heroes is based in Minneapolis, MN.
Heroes who use the Homes for Heroes program alongside the Broadview Mortgage Katella Branch will receive a free appraisal on behalf of Broadview Mortgage, and will receive a 25% rebate at closing from the real estate affiliate's gross commission off of the sale. If the hero also uses a Homes For Heroes preferred home inspection company, they may receive a discount on private home inspections and a discount on the closing fee. There is absolutely no charge to the hero to use this program.
Homes for Heroes boasts that the program has saved heroes a national total of $4,752,106.01 thus far. The Homes for Heroes program was formed in 2002 after the tragedy of September 11th, 2001. The Homes for Heroes website contends that the organization began with a "shared admiration for the Heroes who selflessly serve their communities." The organization was started by a group of Minnesota Real Estate related business owners who created the 'innovative network' that has bloomed into such a large production for a great cause.
We at Broadview Mortgage are thoroughly optimistic about the cause that continues to burden tons of families all over America, and we are pleased to be affiliated with a trusted nationally recognized organization. Here at Broadview Mortgage we are one big family, and we place heavy value in reaching out to our local community. What better opportunity than to help our community than by helping our local heroes achieve the security of owning a home in an increasingly difficult mortgage market for heroes like military officials to obtain a home which they can call their own?
The process of obtaining a mortgage and paying it down is an extensive one for any average homeowner. The process is even harder for those who serve in the military. As if this profession, and being a family member of someone in such a profession was not hard enough. Fox Business reports, "banks, including JPMorgan (NYSE: JPM), have paid millions to settle claims that they overcharged military members and at times took improper foreclosure actions on active-duty military personnel." The Consumer Financial Protection Bureau reported that a hefty percentage of the consumer complaints that it has received from the military were related to mortgage.
The Consumer Financial Protection Bureau wrote new mortgage protections for consumers, with military officials at the forefront of their mind when creating the new rules. However, CNN Money has just sent out a report that U.S. military families' grocery budgets could potentially become $3,000 more per year under a new defense budget proposal that would "cut commissary subsidies from $1.4 billion to $400 million. These numbers depict a 71% decrease. The new budget cut would cause military families who currently save 30% on their groceries by shopping at a commissary to decrease savings down to 10%. Congress has also cut Food Stamps, which Military families are very big on using. Lastly, CNN Money includes that "The Pentagon's 2015 budget 'proposed the deepest and most far reaching cuts to military compensation in the 40-year history of the all-volunteer force, explaining that such cuts are necessary in order to pay for more modern gear and high-tech weaponry." Along with that, health care fees for both active-duty families and retirees may potentially get cut. In a time like this, it is critical that more companies do their best to accommodate our heroes.
The pain that has been felt by our nation's heroes resonates throughout the country, and it is clear that they can be the first to be thrown on the backburner. Homes For Heroes has identified a solution to alleviate that pain when it comes to home buying, and provides security for our heroes to find peace of mind when it comes to obtaining a roof over their heads. These heroes have given so much of themselves to our community, and it is now our turn to give back.
Heroes constitute as firefighters, EMT, military, peace/police officers, teachers, healthcare workers, and those in public service. Heroes can sign up at: http://www.homesforheroes.com/heroSignup - to find out if you qualify, contact info(at)homesforheroes(dot)com of call 866-443-7637.
To learn more about becoming an affiliate, go to: http://www.homesforheroes.com/realtor-affiliate-overview
If you have any questions about the information herein, feel free to reach out to the Author, Brittany Williams, at Brittany.williams(at)broadviewmortgage(dot)com . If you would like a quick pre-approval click here, and for assistance with down payment or buyer assistance, click here. You are also always free to give us a call toll free at (855) 692-7623.
Since 1988, Broadview Mortgage has distinguished itself through honest business relationships with clients, loyalty to employees, and commitment to empowering and educating those communities. Broadview Mortgage is a mortgage banker and direct lender made up of loan officers with years of experience in the firm and sheer excellence in customer service. The firm works to explore several financial solutions for its clients, for which they choose. Business is initiated and conducted on a word-of-mouth basis. Broadview Mortgage is a delegated underwriter for the Federal Housing Administration (FHA), the Veterans Administration (VA), and the Federal National Mortgage Association (FNMA). Broadview is also approved to participate in several state, county and city programs for First Time Home Buyers.
# # #