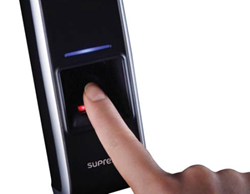 We now have the most affordable, high performance finger-only reader on the market.
Amherst, NY (PRWEB) March 05, 2014
ENTERTECH SYSTEMS has just announced the availability of a groundbreaking Suprema BioEntry Plus that is a new low-cost biometric reader created for the North American market. This easy-to-use, finger-only device has been designed to address the three major obstacles to mainstream adoption of biometrics – complexity, on-boarding users, and most significantly, cost. With this product, ENTERTECH SYSTEMS bridges the financial gap for businesses, allowing them to affordably move from card-based access control systems to more secure true identity systems that leave no room for fraud or loss.
"We now have the most affordable, high performance finger-only reader on the market," said Rob Douglas, CEO of ENTERTECH SYSTEMS. "As part of our family of high performing Suprema biometric devices, the Suprema BioEntry Plus finger-only reader (BS-BEPLOC) is available for less than $500 to systems integrators and dealers."
ENTERTECH SYSTEMS offers a range of Suprema biometric products and applications that are ideal for mainstream adoption. "Biometrics has evolved tremendously over the last decade; this technology is changing our daily lives and will continue to change how we work, live and interact well into the future," added Douglas.
There are a wide variety of business and consumer use cases for biometrics including building access control, securing sensitive data centers, safeguarding students and staff at school campuses, providing hospital operating room access with face recognition, allowing smartphone integration for ease of mobility, providing time and attendance integration for payroll savings, and securing access to dangerous and/or high-cost machinery in retail stores, warehouses and distribution centers. For more information on how biometrics can help in all of these markets, watch the video at http://www.entertechsystems.com/company/entertechtv/intro-videos/findbiometrics-use-cases-video.aspx.
Suprema devices, including the new Suprema BioEntry Plus finger-only reader, can be purchased through ENTERTECH SYSTEMS distribution partners. Every purchase comes with access to a highly responsive, results-driven technical support team that works closely with partners and customers to ensure complete functionality and satisfaction.
Visit us at ISC West 2014
Come see ENTERTECH SYSTEMS and Suprema at booth #10053 from April 2-4 in Las Vegas for in-person product demonstrations and information on the newest technologies. To book a meeting with ENTERTECH SYSTEMS or register for a free ISC 2014 exhibit hall pass, visit http://www.entertechsystems.com/company/events.aspx.
About ENTERTECH SYSTEMS partnered with Suprema
ENTERTECH SYSTEMS provides market-leading intelligent identity management solutions. Their biometric access control and time and attendance systems are purpose-built to overcome the three main obstacles to mass market adoption of biometrics: cost, complexity and on-boarding users. ENTERTECH SYSTEMS is the North American operating partner for Suprema's family of #1-rated biometrics (finger, face, card and PIN), biometric algorithm, SDK, IP Network and application software products. The company's industry-first BioConnect cloud and mobile applications enable Suprema's biometric readers to be quickly and easily integrated with leading access control systems. For more information, visit http://www.entertechsystems.com.
For further details, please contact:
Linda Wu
Director of Marketing
ENTERTECH SYSTEMS
Phone: (905) 582-5110
Email: info(at)EnterTechSystems(dot)com