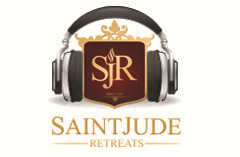 We can easily turn every human activity that people indulge in for recreational purposes into an addiction.
Amsterdam, NY (PRWEB) March 04, 2014
The Saint Jude Retreats is excited to announce that as of today Tuesday, March, 4, 2014 the Saint Jude Retreats Radio's latest show is live and ready for download or streaming.
The radio show host and Executive Director of Saint Jude Retreats, Michelle Dunbar, opens the segment with a brief description of what Saint Jude Retreats is and the philosophy behind it. Trending topics follow, with local and national news connected to recently discovered correlation between the boom in ADHD diagnoses and the implementation of the standardized tests in schools, followed by the deeply disturbing story of Justina Pelletier, who was taken against her will from her parents, and kept at Boston Children's hospital for more than a year.
The interview with the radio show guest follows, as Dunbar introduces Dr. Allen Frances- a clinician, published author, and a critic of the Diagnostic and Statistical Manual of Mental Disorders, Fifth Edition, also known as the DSM-V. Frances is founding editor of The Journal of Personality Disorders and The Journal of Psychiatric practice and currently writes a popular blog titled "Saving Normal" on Psychology Today's website. His latest book "Saving Normal: An Insider's Revolt Against Out-of-control Psychiatric Diagnosis, DSM-5, Big Pharma, and the Medicalization of Ordinary Life" is deemed invaluable in its assessment of today's epidemic of overmedicating and overdiagnosing normal behavior. Dunbar comments "I always have a list of questions ready, but with Dr. Frances I literally threw away the script. His responses were so engaging that I hung on his every word. I had a million more questions I wanted to ask, but we simply ran out of time."
The interview continues with Frances and Dunbar touching on the subject of the new DSM-V, as well as the trend of labeling normal behavior as one requiring diagnosis. Frances emphasizes the paradox that "people who desperately need treatment can't get it, we don't fund care for them [sic] at the same time people who might be harmed by too much diagnoses and treatment, are overwhelmed with drug company advertising that encourages them to take pills that might in the long run be very harmful for them."
The host and guest' discuss the aggressive marketing strategies of the pharmaceutical companies to popularize prescription medication, the subject of medical marijuana legalization, and the consequences of the unsuccessful War on drugs. "We have more deaths from overdose with prescription drugs than we have deaths from overdose with street drugs. The feeling I have is that we should be much more careful in making diagnoses and much more careful in giving out drugs," Frances concludes.
Dunbar concludes the radio show by answering questions posted by listeners on the topics of overmedication of younger children diagnosed with ADHD, and prescription medication as a way to deal with stress in young adults.
About Saint Jude Retreats:
Saint Jude Retreats offers an alternative to the traditional 12 step programs like AA, as well as traditional rehabs and treatment centers. Saint Jude Retreats is a non-profit organization that helps individuals change and overcome alcohol and drug abuse and other addictions. Proven to be more effective option in overcoming substance use problems, the Saint Jude Retreats helps individuals find the power to overcome substance use by providing them with a self-empowerment educational experience which inspires them to make better decisions moving forward. The Cognitive Behavioral Education based program is supported by numerous addiction specialists, professors and psychologists in the field and has a proven success rate.
Saint Jude Retreats Facebook
Saint Jude Retreats Google +
Saint Jude Retreats Twitter