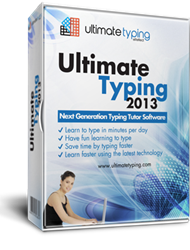 Touch typing is no longer an optional skill in today's technology-driven society.
New York City, NY (PRWEB) March 05, 2014
Touch typing is no longer an optional skill in today's technology-driven society. Without efficient typing skills, it's easy to lag behind the competition in terms of productivity and overall work efficiency, whether a person is a student, a lawyers, or a teacher. Everyone can benefit from improved typing skills. In a recent interview with Sense-Lang.org, Ultimate Typing™ developer eReflect highlights the fact that typing skills can be mastered effortlessly, with the right approach.
Sense-lang.org describes to the Ultimate Typing™ blog readers that learning to type can be as fun as it is necessary. Unlike hard-to-master skills like coding and learning new languages, touch typing can be easily mastered through a wide range of activities. Touch typing can be learned through typing drills, exercises, typing games, and the use of typing apps. Anyone wishing to achieve measurable typing improvement should take advantage of these common and easy to use resources, and not assume that keyboarding takes a level of technology they're not able to handle.
Touch typing is in fact a straightforward skill based on a set of rules. Once these rules are learned, all the person has to do is tap into that knowledge through consistent touch typing practice. Sense-Lang is a strong supporter of fun-based learning. Apart from the typing games and activities users can practice with no-cost on their website, the company regularly organizes a World Typing Championship for Classes contest so students, beginner typists, and anyone else can join in and have fun while practicing touch typing.
Although open to all levels of typists, Sense-lang.org is specifically targeting school-age children and young learners. The company's goal is to equip students across the globe with this 21st century essential skill through engaging and stimulating exercises and games. The company's latest project, the Typing Race, encourages teachers to use its virtual school environment to create typing practice materials and share them with their students. In the interview with the Ultimate Typing™ blog editor, Sense-Lang reveals that it's through such initiatives that learners are attracted to touch typing. Smart, tech-savvy environments make learning more fascinating for the student, and at the same time the teacher or supervisor can use that technology to monitor the student's learning to ensure that they do indeed improve their typing speed and accuracy.
*********
For more details on Ultimate Typing™ please visit http://www.ultimatetyping.com/.
About Ultimate Typing™
Ultimate Typing™ software is designed specifically for the improvement of typing skills. Created by eReflect, a world leader in e-learning and self-development software, Ultimate Typing™ has been informed by the latest developments in the science of touch typing.
Since its creation in 2006 by Marc Slater, the company has already catered to over 112 countries all over the world, offering products with the latest cutting-edge technology, some of which are among the world's most recognized and awarded in the industry.