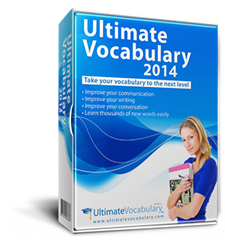 ... helps people quickly and effortlessly improve their vocabulary.
New York City, NY (PRWEB) March 06, 2014
eReflect's vocabulary enhancer program, Ultimate Vocabulary™, has been recently reviewed by the educational site Powerful English Lessons. This website specializes in offering activities, lessons, and ideas for people who are looking for ways to improve their English proficiency. Powerful English Lessons has assessed the software from eReflect based on a number of factors, and has published the review on the site. The review emphasizes how the software helps people quickly and effortlessly improve their vocabulary.
The review of Ultimate Vocabulary™ focuses on the software's complete approach to learning, one which includes all sorts of media and activities that help the user — and especially younger learners — remain entertained and interested in the process. This review and others have noted that the software combines practice and fun very well, making learning easy, informal, and engaging.
The software's range of exercises and activities was also acknowledged by the reviewer, who emphasizes how professional and high-quality the program is, a result of its having been designed by over 23 vocabulary specialists and linguists. The sheer volume of activities, word lists, and other resources was highlighted by the reviewer at Powerful English Lessons. The reviewer refers to the various benefits of an extensive vocabulary, which among other benefits includes making people better in communicating their thoughts and ideas, and improving their writing, as well as more long-term and tangible benefits like improving career prospects and getting a boost in overall self-confidence. The reviewer also touches upon the integrated technologies of the software, including the progress monitoring feature that lets the learner know how their vocabulary learning is advancing.
The reviewer lastly mentions that eReflect's money-back guarantee ensures customers will feel confident the vocabulary enhancer won't disappoint them, and will deliver on its promise to improve their vocabulary. eReflect thanks Powerful English Lessons for their honest review of the software's capacities and benefits and promises to keep up the good work in offering easy and fun ways to improve vocabulary to students and people of all ages.
For more information on how you can benefit from Ultimate Vocabulary, please visit its official website, http://www.ultimatevocabulary.com.
About Ultimate Vocabulary™
Ultimate Vocabulary provides a proven and powerful platform, built to improve anyone's vocabulary.
The interactive self-improvement system provides more learning tools than any other program on the market, as well as more information on words.
The Ultimate Vocabulary software provides each and every user with a personal computer tutor. Providing a step-by-step guide to learning a powerful vocabulary, Ultimate Vocabulary is the learning tool everyone can benefit from.
Of course, the software is also backed by eReflect's iron-clad money back guarantee.