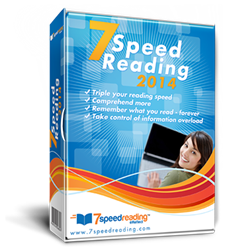 Scorcese's new film will undoubtedly bring the novel the long-overdue international acclaim it deserves.
New York City, NY (PRWEB) March 10, 2014
7 Speed Reading™ software and eReflect welcome another guest article by Dan Bloom. This time, the writer is discussing "Silence" at the 7 Speed Reading™ blog, and Martin Scorsese's latest film project, which is the adaptation of that 1966 Japanese novel. This work of historical fiction tells the story of a Jesuit missionary who's trying to practice and teach Christianity to Buddhist and Shinto Japanese people in the 17th century, and narrates the adventures and hardships the Jesuit missionary faced in a Japanese society that was primarily Buddhist and in which Christians were prosecuted. Although a Japanese novel, the movie will be shot in Taiwan, a popular film location now due to the much-acclaimed movie "Life of Pi," which revealed the scenic countryside and photographic appropriateness of the country and of the city of Taipei for movies that rely heavily on photography as part of their narrative.
7 Speed Reading™ readers also learn that, despite being shot in Taiwan, the film will be dubbed in Japanese and promoted as a Japanese work. "Silence," the novel by Shushako Endo, has never received international acclaim, despite being an award-winning novel in Japan. It's been more than 5 years since Martin Scorsese announced his plan to adapt the novel into a film, but interest remains high in the project. The latest news reveals that Ken Watanabe and Andrew Garfield will also be starring in the film, alongside Daniel Day Lewis. Dan Bloom reports that Scorsese will start shooting the film in the summer of 2014; however, Scorcese and a dedicated team have already spent some time surveying the Taipei region to ensure the chosen locations are exactly suitable for their vision of the film adaptation of the novel.
Scorcese's new film will undoubtedly bring the novel the long-overdue international acclaim it deserves. Whether 7 Speed Reading™ blog readers want to use their ability to read faster to discover Endo's novel and read it, or wait for the film, eReflect reports that Dan Bloom's guest blog is a post worth reading.
For more information about the benefits of using 7 Speed Reading, please visit the official website at http://www.7speedreading.com.
About 7 Speed Reading™
7 Speed Reading is the only modern speed reading software that uses the latest technology to produce superior results.
The software provides its users with a new way to master speed reading that guarantees three times the reading speed along with improved memory and comprehension.
The software is poised as the most comprehensive speed reading system anywhere. It contains seven learning strategies, fifteen software activities, video training, advanced tracking capabilities and many more exciting features.