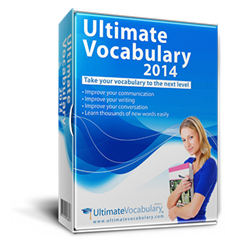 ... also provides sentence examples so that the reader can get an idea of how the word is used in a variety of contexts.
New York City, NY (PRWEB) March 13, 2014
Power English Lessons recently shared an Ultimate Vocabulary™ review with its readers in which the software's best points are highlighted. eReflect is pleased with the assessment of their software and pledges to keep up the good work in creating efficient and knowledge-boosting software.
The review emphasizes the importance of vocabulary as part of basic and advanced English competency and states that Ultimate Vocabulary™ is a high-quality resource for anyone who wishes to improve their vocabulary knowledge and usage. Pointing out the refund policy long established by eReflect, Power English Lessons reminds English learners that this is a risk-free investment for their vocabulary improvement.
The reviewer doesn't fail to mention that the vocabulary builder has been also reviewed by prestigious review experts and has been consistently congratulated for its efficiency and ability to enhance vocabulary for people of all ages and professions. Ultimate Vocabulary™ offers in-depth vocabulary knowledge; it doesn't merely offer a word's definition, it also provides sentence examples so that the reader can get an idea of how the word is used in a variety of contexts. Apart from word usage, the learner also gets to learn a word's synonyms, antonyms, and pronunciation, and play various vocabulary-level appropriate games to ensure they learn the word completely and can easily use it in their everyday language and writing.
10 minutes a day for a month suffices for vocabulary improvement, notes the review, and if this is not the case for an Ultimate Vocabulary™ user, the company provides a money-back guarantee. Power English Lessons also highlights the contribution of the Ultimate Vocabulary blog in offering vocabulary improvement tips to anyone who wishes to expand their vocabulary with new words and phrases. Power English Lesson explains that the blog offers insightful knowledge about vocabulary and other language aspects to ensure readers can get a good foundation in the underlying principles of the English language and English vocabulary.
***********
For more information on how you can benefit from Ultimate Vocabulary, please visit its official website, http://www.ultimatevocabulary.com.
About Ultimate Vocabulary™
Ultimate Vocabulary provides a proven and powerful platform, built to improve anyone's vocabulary.
The interactive self-improvement system provides more learning tools than any other program on the market, as well as more information on words.
The Ultimate Vocabulary software provides each and every user with a personal computer tutor. Providing a step-by-step guide to learning a powerful vocabulary, Ultimate Vocabulary is the learning tool everyone can benefit from.
Of course, the software is also backed by eReflect's iron-clad money back guarantee.