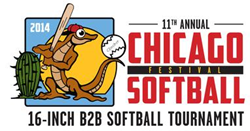 Tempe, AZ (PRWEB) March 07, 2014
The premier B2B (business-to-business) softball event in the valley will be played at the new Cubs Park spring training facility in Mesa on April 6. The event organizers, Al Maag of MaagCommplus and Vince Adam of Spark Design, hail it as a real Chicago celebration.
"Not only will teams challenge one another at Chicago's own signature sport, 16-inch softball, but we're playing on the Cubbies' turf and bringing in Chicago food like Italian beef and Chicago-style hot dogs," said Maag.
This tournament is great way to give back to the local community. Whether you're a player or a spectator, this event provides a wonderful opportunity to spend a Sunday with the family. All net proceeds from the tournament benefit deserving local charities like JDRF, The Miracle League of Arizona and Spark of Hope.
"For more than a decade this popular tournament has been growing in local business participation," said Adam. "With 30 or more co-ed and men's teams coming out to play, it's the place to be for networking opportunities and for enhancing your company morale."
This year's festivities are slated to include clowns creating balloon art and face painting, a bean bag competition, a Budweiser beer garden, raffle prizes, silent auction, festival booths and music. Winners of the tournament, both Co-ed and Men's, will receive Suite tickets to an Arizona Diamondbacks game and second place winners will each receive a $25 gift certificate to Don and Charlie's restaurant in Scottsdale.
"The tournament highlight is the game between company CEOs and local celebrities, sponsored by the Phoenix Business Journal and Arizona Leadership Foundation and organized by Arizona Sports 98.7 FM and News/Talk 92.3 KTAR." said station general manager, Ryan Hatch. "The CEOs vs. Celebrities game will be broadcast live on Arizona Sports 98.7 FM."
Team entry registration is $400. Click here to register your company team by March 28.
Event: 12th Annual 16-Inch B2B Softball Tournament (Formerly the Avnet B2B Chicago 16-Inch Softball Desert Classic)
When: April 6, 2014, 8:30 a.m. – 6:00 p.m.
Where: Cubs Park spring training facility, 2330 W. Rio Salado Parkway,
Mesa, AZ 85201
Sponsorship Opportunities:
This event provides some great sponsorship opportunities for organizations in the Valley. There are several sponsorship packages available to fit your needs. Don't miss this chance! Please contact Tiffany Hoffman at 602.697.3201 or email Tiffany(dot)Hoffman(at)maagcommplus(dot)com for questions and sponsorship opportunities.
For more information please contact Tiffany Hoffman at MaagCommplus 602.697.3201 or email her at Tiffany(dot)Hoffman(at)maagcommplus(dot)com.