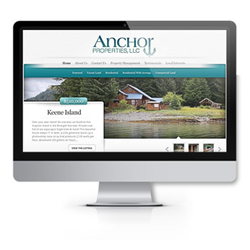 …a personalized approach to assisting clients…
Petersburg, Alaska (PRWEB) March 05, 2014
In October 2013, Anchor Properties, LLC launched its new website http://www.homespetersburg.com/, targeting residential and commercial real estate as well as property management in the Petersburg and Central Southeast Alaska areas. According to Bennett McGrath, local resident and founder/owner of the innovative real estate firm, Anchor Properties brings a fresh alternative for meeting the needs of the real estate market in the area.
"Anchor Properties is proud to bring current residents of the Petersburg area as well as those considering relocating to the area, a fresh all-inclusive alternative to buying and selling residential properties, residential properties with acreage, vacant land and commercial land," said McGrath. "With our division of property management that can screen applicants and assist in the market of property management we are a one-stop real estate shop."
"As a real estate professional, I am excited and highly motivated to offer my clients an all-inclusive real estate buying and selling experience highlighted by my personal enthusiasm to be a part of this amazing community," McGrath stated, adding, "My clients appreciate the level of personal and technological communication provided by Anchor Properties as well as innovative ideas for selling unique properties, and a personalized approach to assisting clients find that perfect home or land, both residential and commercial. Real estate buyers and sellers are encouraged to visit the recently-launched Anchor Properties website for more details."
__________________________________________
About Bennett McGrath and Anchor Properties, LLC
Bennett McGrath, Petersburg resident and founder/owner of Anchor Properties, LLC, is an all-inclusive real estate professional. Offering more than twelve years in the real estate and marketing industries, McGrath also has a law school education, a homebuilding and landscaping contractor background, and possesses the experience and knowledge necessary to provide clients detail-oriented, top quality customer service in the unique Petersburg and Central Southeast Alaska area. Anchor Properties also has over 20 years of property management experience which can fill a much-needed gap in the area's demand for such a need. Property owners no longer have to deal with renters and the day-to-day operations associated with managing their properties. Anchor Properties has a staffed contractor who is licensed, bonded and insured and can serve all properties when needed.
McGrath relocated to Alaska from California some years ago with husband, Patrick, to start and raise a family and take advantage of the benefits of the small town environment and neighborhood camaraderie synonymous with Petersburg and Alaskan residents. An active member of the Petersburg Elks Lodge, Sons of Norway, and on the board of directors at KFSK (Petersburg's award winning radio station) McGrath is also involved in many other community organizations including helping to build and volunteering at the local community garden, tutoring elementary through high school age kids, and has also coached "Girls on the Run".
__________________________________________
Current Featured Listings
Keene Island
Own an island! No one else can build on this majestic island in the Wrangell Narrows. Private cove full of sea asparagus, eagle trees & more! This beautiful 2,682 sq. ft. home offers 4 bedrooms, 3 bathrooms and can easily sleep 11 in beds. The house comes furnished and includes 2 boats. A 220v generator backs up a photovoltaic solar array that produces 2,100 watts per hour, desalinator (50 gallons an hour), 10,000 gallon rain catchment system stores the home's water supply, sauna, hot tub, indoor and outdoor greenhouses, custom stained glass windows, and a boat haul out. The landscaped yard includes cherry and apple trees. Wonderful neighbors that live along the narrows add a great sense of community.
Quarry Sawmill
This Sawmill property is a sawyers dream. Items that are included in the sale of this property are many. Learn more about the extensive list of items that conveys with the property. Call us today and we will be more then happy to take you out and show you the mill. The current owner has grossed about $50,000 a year since purchase. Can be sold as a unit property and business, or it can be split up.
To contact real estate professional, Bennett McGrath, or for more information on these or other properties, visit http://www.homespetersburg.com.