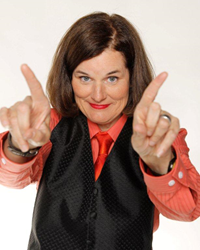 Seeing Paula Poundstone is believing she's the funniest standup comic working today!
San Rafael, CA (PRWEB) March 05, 2014
Paula Poundstone draws her material from her own complex life with 3 kids, 2 dogs and 13 cats, motherhood, a demanding job, crazy travel schedule, aging frustrations and a bag of neuroses including her famous inability to ever shut up.
Attending a Paula Poundstone performance will leave you marveling at her ability to interact spontaneously with audience members in conversations bound to garner riotous laughter. Armed with nothing but a stool, a microphone and a can of Diet Pepsi, Paula's ability to create humor on the spot has become the stuff of legend. Little wonder people leave Paula's shows complaining that their cheeks hurt from laughter, and debating whether the random people she talked to are "plants" – which, of course they never are.
WHAT: An Evening with Paula Poundstone presented in association with The Other Café Comedy Showcase
WHAT ELSE: Cocktails, Coffee, Tea & Snacks Available for purchase. Post event meet & greet with the Artist in lobby.
WHO: All are invited. Tickets are from $25 to $80 with 4 tiered seating choices, including reserved VIP & Gold seating which include an intimate pre-event private artist's reception.
WHERE: The Osher Marin JCC, 200 N. San Pedro Rd, San Rafael, CA 94903
WHEN: Sat. May 17 at 8 p.m. - VIP Reception at 7:15 p.m., show begins at 8:00 p.m.
PARKING: Free on site and street parking
TICKETS: More Info Available at JCC website or Other Café website.
MORE
Her spontaneity and intelligent humor has made her the perfect panelist for NPR's Wait Wait… Don't Tell Me, where she matches wits with some of our nation's leading pundits. Paula was the first woman to win an ACE award for Best Standup Comedy performance and the first woman to be invited to perform at the distinguished White House Correspondents dinner. She has starred in solo specials on HBO and BRAVO, has made frequent TV appearances on all the major talk shows and Garrison Keillor's A Prairie Home Companion. She is also an author, lecturer and her editorial pieces can be heard on NPR's Morning Edition.
Seeing Paula Poundstone is believing she's the funniest standup comic working today!
The Kanbar Center for the Performing Arts is the Performing Arts Department within the Osher Marin Jewish Community Center in San Rafael, California. For over 20 years we have spread the power of music, voice, humor, taste, culture, movement and words throughout the community by presenting classical music, club style dancing events, comedy, musical concerts, theater and performance in the grand Hoytt Theater, lectures, chats and demonstrations in the Kurland lounge and great world music & dancing for all ages outdoors under summer skies on Swig Field. All are welcome; no membership is required to attend. The Center is centrally located in Marin County and just 1/4 miles east off Hwy 101
About the Other Café
The Other Café, the legendary Haight-Ashbury comedy club, is a San Francisco establishment. Founded in 1977, The Other Café -- along with the Punchline, Cobb's and the Holy City Zoo -- was one of four full-time comedy clubs operating in San Francisco alone with comics such as Dana Carvey, Bob Sarlatte, Bobby Slayton, Michael Pritchard, Jane Dornacker, Whoopi Goldberg, Jay Leno, Henny Youngman, Howie Mandel, Gallagher, Brit Jasper Carrott, and pioneer lesbian comic Robin Tyler.