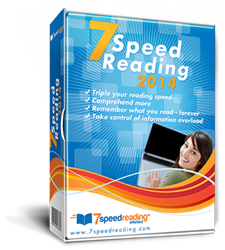 The collection of bookcases combined could be a bookworm's dream house.
New York City, NY (PRWEB) March 14, 2014
The 7 Speed Reading™ team, voracious readers all, knows firsthand how awful it is to run out of shelf space, especially when every possible nook and cranny in a home is already brimming with books of all sizes and subject matter. To help prevent an epidemic of frustrated bookworms, 7 Speed Reading™ shares with bibliophiles around the globe 7 weird and ingenious bookcases for DIY enthusiasts and those looking for a new bookcase for their ever-expanding library.
One of the downsides of a higher speed reading rate is that people will run out of shelf space for their books more quickly. One solution might be to never buy books again, just borrow them, but as a true bibliophile would protest, books read are books worth keeping. The 7 Speed Reading™ team, facing a similar dilemma of its own, has scoured the Web for extraordinary and unique bookcases to help those in a similar plight find a solution for their recurrent problem of limited book space.
The collection of bookcases combined could be a bookworm's dream house. A bookcase made of individual puzzle-like blocks gives the owner ample room for creative compositions. The no-edges bookcase is standing out as it brings a smoother, less sharp look to a room. For Dr. Who fans, 7 Speed Reading™ recommends the Police Box bookcase. It's bigger on the inside! And for non-Whovians, 7 Speed Reading™ offers bookcases ideas for math and physics fans with its bracketed bookcase recommendation.
For lovers of minimalism and those with more books than they can count, eReflect and the 7 Speed Reading™ team suggest spiral bookcases for showing off their collections of books.
Whether they are speed reading or not, reading books is a favorite pastime for millions of people. Bookcases add warmth and show off a lifetime of collection. From book lovers with DIY bookcases made from bricks and industrial pipes to those who buy the latest in sculptural shelving beauty, the pleasure is the same: bibliophiles rejoice in looking at their collection of literary works, and the worlds and knowledge discovered therein.
************
For more information about the benefits of using 7 Speed Reading, please visit the official website at http://www.7speedreading.com.
About 7 Speed Reading™
7 Speed Reading is the only modern speed reading software that uses the latest technology to produce superior results.
The software provides its users with a new way to master speed reading that guarantees three times the reading speed along with improved memory and comprehension.
The software is poised as the most comprehensive speed reading system anywhere. It contains seven learning strategies, fifteen software activities, video training, advanced tracking capabilities and many more exciting features.