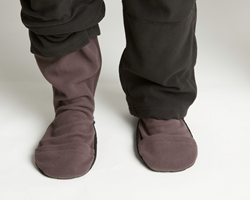 The most comfortable sweat pants you will ever own.
Salt Lake City, UT (PRWEB) March 05, 2014
Lost Socks, a Salt Lake City startup, has developed a new revolutionary clothing product for people with cold feet. The product, known as Lost Socks, is a luxury sweat pant that has built in sock slippers. Lost Socks are now being pre-sold on Kickstarter.com.
Lost Socks are made with high quality fleece and features slant pockets and drawstrings at the waist, but what makes them unique is the patent pending convertible sock slipper that is sewn into the sweatpants. The fleece lines the inside of the socks slippers so you don't have to choose between freedom and warmth. Now you can have both, and it doesn't have to cost you your dignity since the slipper hides neatly rolled up above the ankle.
Record breaking cold temperatures in Utah prompted college student, Bryan LaBar, to invent a product for solving cold feet without compromising on comfort.
"As a student in college I lived in a drafty basement apartment," said Lost Socks Founder Bryan LaBar. "My feet were always cold, and I found myself always wearing slippers or thick snowboarding socks with shoes. It was annoying. Then one day it occurred to me. Why not integrate sock slippers into my sweat pants. Now my girlfriend and I wear them every night."
"I wanted to invent something that kept my feet warm, but was also discreet. I wear my Lost Socks everywhere: in class, shopping, around the house. No one can tell I'm wearing them. It's great."
Lost Socks is a useful discreet solution for keeping comfortable and warm despite winter weather conditions. Pre-order a pair on Lost Socks' Kickstarter page. To learn more about Lost Socks, visit http://www.mylostsocks.com.