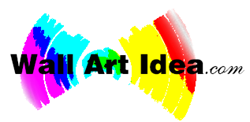 Very nice and professional excellent service. By Alan. Feb 27, 2014
(PRWEB) March 06, 2014
WallArtIdea.com is very pleased to announce their sale on all wall stickers: 50% off the supplier-suggested retail price. The sale includes decorative wall stickers, flower wall stickers, tree wall stickers, kids wall stickers and nursery wall stickers – the perfect choice to decorate your children's room.
WallArtIdea.com, a well-know online wall decals store, is now offering high quality and affordable oil paintings, wall stickers and prints on canvas to customers around the world. There is no minimum order quantity and the company will ship anywhere in the world. The website makes it easy and affordable to place an order for just a few wall arts or a larger wholesale order.
With prices reaching 50% less than the local gallery price, Joseph, the SEO of the company, believes that the general public can now decorate their homes with handmade oil paintings as opposed to prints.
"We are trying to change the face of the Wall Décor industry," says Joseph. "We have set ourselves apart from other wall décor vendors, and we believe that we have an opportunity to spread the love for handmade art."
"A lot of people want to know what's selling best because it gives them an idea of what's trendy, what's hip, what's cool and what their respective peer groups are going to enjoy," he said. "This is especially true in the business world where offices have to keep up with the latest interior décor in order to maintain a sense of modern quality to impress customers and clients…a lot of business owners like to make sure they're up to speed."
"We spend a great deal of effort, making sure that the art we supply our customers is done at the highest levels of materials and craftsmanship," Joseph says. From a customer stand point there are some amazing benefits to looking for wall art online. The selection is much broader, the price is much lower, and it is so much easier to browse through the different paintings before choosing the perfect one. In addition, online art galleries can show a customer how the art will look on different wall colors and with a variety of frames. It is amazing how technology is affecting people's lives even in areas that are so traditional and personal.
The online market for wall art is still in its adaptation phase. This creates a tremendous opportunity to a retailer that is well positioned and has the tools and the art that shoppers are looking for. "We know that a large part of our growth will be from customers who are new to buying art online, but we expect some growth from customers who are going to increase the amount of art they buy online," says Joseph.
About WallArtIdea.com
WallArtIdea.com welcomes you to a world of handmade oil paintings. Once only for the incredibly rich or the world's great museums, now you can own a hand painted reproduction. Make a statement with handmade art for your home or office, WallArtIdea.com offers a huge selection of oil paintings to choose from, online custom framing, subjects and styles suitable for every décor. Visit us today at WallArtIdea.com for timeless art and bring elegance to your home.
For more information, please visit http://www.wallartidea.com.