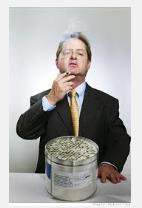 Marijuana Business Training special Guest Speaker at the Orlando Florida Class on March 9th is Irvin Rosenfeld, and a special Door Prize will be offered to attending students... One of Rosenfeld's Government issued Marijuana Tins!
Orlando, Florida (PRWEB) March 04, 2014
Nestled in the state of Florida, Orlando is a beautiful town, full of energy and excitement, sprawling over 100 square miles. It's known for amazing attractions and a wide variety of tourists from around the world. On March 9th, 2014, Orlando is about to host something even more interesting: A Marijuana Business Training Seminar.
While Florida has not quite decided whether it will implement marijuana legislation for the legalization of medical use or recreational use, currently there has only been one person in the entire state, that has been legally allowed to smoke pot over the last few decades.
That person is Irvin Rosenfeld.
In 1982, after multiple operations and horrible health issues stemming from a very rare form of bone cancer, Rosenfeld was one of the few people ever to be issued Government Marijuana, in the United States. He was issued his monthly Marijuana dosage of 300 pre-rolled cigarette joints, all packed inside large nondescript tins that were labeled as being from the US Government. In 2009, Rosenfeld was listed to having smoked over 115,000 medical marijuana joints... all courtesy of the United States.
Irvin Rosenfeld is scheduled as a Special Guest Speaker during the Cannabis Career Institute Marijuana Business Training class to be held on March 9th, at the Hyatt Regency, International Airport. Rosenfeld has graciously offered to provide one of these collectible Government tins as a unique door prize for the classroom students that attend the workshop.
Entrepreneurs interested in learning how to open a Medical Marijuana Dispensary or a Delivery service attending the class will be instructed on professional business training for the Cannabis Industry. The workshop class covers full business planning, information on Industry compliance based on state legalities and regulations, Marijuana Grow operation management outlines, Edibles operation management details, Dispensary Management organization, Non-Profit Corporation status content, information on how to create action teams while providing students with a network of industry professionals.
Cannabis Career Institute was established in 2009, by Robert Calkin, who has been very active in the political reform of Marijuana for decades, has taught at Oaksterdam University and is a successful business owner. Calkin is also an author, a Marijuana Industry consultant and a Marijuana Delivery Specialist. He has brought in teams of professional industry leaders, including attorneys, grow masters, chefs and more to teach classes around the nation, helping entrepreneurs wishing to get into the Marijuana Industry, by providing education on the best business practices which are based on individual state compliance.
Cannabis Career Institute has graduated over 2000 students recently and many of those students have gone on to become successful Marijuana Industry businesses.
Students wishing to enroll in the class can do so online by visiting Cannabis Career Institute's website and checking the Events Link or by calling (800) 753-2240 to enroll by telephone.
Robert Calkin and his Instructor team will be available for interviews from the press or media on Thursday March 6th at the Hyatt Regency Orlando International Airport.
Staff Writer: Meki Cox