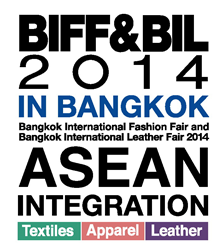 It will showcase Thailand's fashion and leather industries, all complete from upstream to downstream manufacturing, and to drive Thailand towards becoming the integrated hub for manufacturing, marketing, and trade of the fashion industry.
(PRWEB) March 04, 2014
The Department of International Trade Promotion (DITP) is now ready to launch Bangkok International Fashion Fair and Bangkok International Leather Fair 2014 (BIFF&BIL 2014). Manufacturers of fashion products, textile items and leather goods showcase their collections and craftsmanship in over 700 booths. The event shows off to the potential of fashion and leather industries from Thai, Japan, Korea, Taiwan, Spain, Malaysia, Indonesia. At same time, this grandiose trade fair reemphasizes ASEAN's status as one of the hub in this region's fashion and leather industries and the its close, successful economic ties with external partners in the ASEAN Plus framework.
Ms. Nuntawan Sakuntanaga, Director-General of the Department of International Trade Promotion (DITP) says that BIFF&BIL 2014 is ASEAN's Major Trade Fair for Fashion and Leather Industries. The event is a result of close collaboration between DITP and fashion, textile and leather Industries Association/Institutes. It is organized to showcase the potential of Thailand's fashion and leather industries, all complete from upstream to downstream manufacturing, and to drive Thailand towards becoming the integrated hub for manufacturing, marketing, and trade of the fashion, textile, leather and footwear industries in ASEAN and Asia. In addition, this fair will serve as a major forum where designers of fashion and leather goods launch their products and the gateway to the global market for potential SMEs.
"BIFF&BIL is more interesting and internationalized this year. Exhibitors from Thailand and foreign countries, such as ASEAN, Japan, Korea, Taiwan, Europe and USA, responded positively to our invitation and have confirmed their participation in the event, so over 700 booths can be expected. Despite the current political situation in Thailand, local and international exhibitors and buyers remain confident and the visitors confirmation keeps flowing in. Their collaborations give us strong confidence to continue making progress and keeping BIFF&BIL 2014 at the schedule, 12-16 March 2014, for creating trade and market opportunities for the business community. Determining to give momentum to the event, proactive public relations (PR) activities have been implemented to draw visitors from different countries. Road Shows were organized in 7 countries, Japan, China, Korea, India, Myanmar, Cambodia and Italy. Therefore, it is expected that over 6,000 from local and international visitors will join the fair and that the order to be made on-site will be worth at least 35 million USD. This is the golden opportunity for Thai companies to build network with partners in ASEAN to prepare for the forth-coming ASEAN Economic Community or AEC in 2015. Moreover, they will be given greater opportunity to make trade deals with potential partners outside ASEAN, utilizing the ASEAN Plus framework and to, at the same time, put more emphasis on fostering trade cooperation with international partners," said Ms. Nuntawan.
BIFF&BIL 2014 will be organized, under the theme "STYLE+DESIGN ASEAN," from 12 to 16 March 2014 at Challenger Hall 1-2, Impact Muangthong Thani. The fair will be the reflection of the fashion trends that focuses on the uniqueness of Thailand and ASEAN's designs to pave ways for the expansion of the industries' customer base into ASEAN's 600 million population and to strengthen Thailand's fashion and leather industries' position in the global marketplace.
The fair's layout is cleverly arranged under the "Fair-in-Fair" concept to give each product category a dedicated display area as follow; Textiles, Apparel, Fashion accessories, Leather goods, Footwear, Tanned leather, Thai exotic, Designer, and International zone.
Fashion Fair (BIFF): get all the lifestyle products you need, fibers, fabrics, leading Thai and international brands, cutting edge innovation such as fine fibers for premium quality textile products of the world's leading fashion brands, natural fiber development, blended yarn, functional textiles and the environmentally friendly natural dye products .
Leather Fair (BIL): explore the whole range of leather products, complete from upstream to downstream. Source raw materials, tanned leather, footwear as well as the latest innovation such as lightweight leather produced exclusively for global brands and exotic leather, for which Thailand as a leader of exporter.
Highlights:
BIFF&BIL 2014 is more internationalized than ever and now features exhibitors from Thailand, ASEAN Plus, Japan, Korea ,Taiwan, Europe and America. Get ready to be oh-so-inspired by the latest fashion innovations and quality products from leading brands exhibited in over 700 booths.
One-to-One Business Matching – Register online and make appointments in advance with companies you are interested in to meet the business partners you have been looking for.
Small Lot Order – a project for retailer or buyer whose emphasis are on quality, specific product design and small order.
New events – Exhibitions featuring Fashion for Grand Generation, Uniforms custom made by many factories to meet the needs of various organizations (e.g. food industry, hospital, etc.), Hotel Lifestyle products to accommodate the image of hotel and resorts e.g., bedding sets, draperies, place mats, etc.
New trendy product 's design developed through the Workshop program for exhibitors by famous expert fashion guru in Thailand.
Showcase and fashion shows by the Asia Fashion Federation (AFF) – 6 AFF members (Japan, China, Korea, Thailand, Singapore and Vietnam) proudly present the latest collections from their top designers and convene a meeting to share industry insights among leading Asia fashion network.
Simulation Training Program and Product development process from the Fashion Product Development Center (FPDC) to help entrepreneurs on product value added.
Exhibition featuring products from cooperation programs, such as fabric specially designed for Japanese market from the Japan – Thailand Textile and Apparel Callaboration (JTC ).
Seminar on 2014/2015 Trends for Leather Goods by experts from Italy, Mr. Giorgio Cannara, President of the Association of Italian Leather Goods Manufacturers and Mr.Roberto Ricci, the trend setter for Lineapelle and Mipel.
Big Days are just around the corner. BIFF&BIL 2014 will take place from 12 to 16 March 2014 at Challenger Hall 1-2, Impact Muangthong Thani. Note: Trade Day: 12-14 March 2014 (10.00-18.00 hrs.) Public: 15-16 March 2014 (10.00-21.00 hrs.)