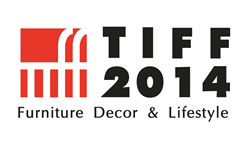 With the SOOK policy, you can make your niche orders with specialized requirements, and of course, in small orders the way you need them.
(PRWEB) March 04, 2014
The Department of International Trade Promotion under the, Ministry of Commerce, joins with the Thai Furniture Industries Association (TFA) and the Thai Furniture Industry Club (TFIC) of the Federation of Thai Industries (FTI), to reassure the public of their readiness to make the Thailand International Furniture Fair 2014 the grandest furniture exposition ever.
TIFF 2014 will present the latest developments in the outstanding design and production capabilities of furniture makers from Thailand and other major countries. The event will offer a perfect venue to meet and make trade negotiations among potential business partners.
This years' event takes place at Challenger 2 and Challenger 3 IMPACT, Muang Thong Thani, Thailand, from March 12th to 16th, 2014.
Mrs. Nuntawan Sakuntanaga, Director-General of the Department of International Trade Promotion (DITP), stated that, "Organized under the concept of 'Inspired Living from the Heart of ASEAN', TIFF 2014 is set to demonstrate Thailand's potential as the future hub of the ASEAN furniture industry.
Trade days run from March 12th to 14th, 2014
Retail Days are from March 15th to 16th, 2014
"In addition to showcasing the design and production capabilities of Thai furniture makers, TIFF provides a unique platform for manufacturers, entrepreneurs, designers, as well as, operators of related businesses to meet and establish partnerships for success. Such related businesses are furniture parts supply, machinery supply and interior décor materials."
"TIFF 2014 is planned to become Thailand's grandest, most comprehensive furniture fair ever. More than 200 exhibiting companies will occupy 750 booths. Everyone should find TIFF a striking event in terms of the designs featured. It is also the perfect opportunity for professionals in related businesses to engage in negotiations and witness the progress of the Thai furniture industry in terms of design and raw material diversity. Leading Thai furniture makers will be joined by counterparts from Myanmar, Laos, Cambodia, Taiwan, Korea, Canada and the European Union. Over 20,000 visitors are expected from countries including Japan, the United States, the European Union, India, the Middle East, Africa, Canada, Austria and ASEAN," said Mrs. Nuntawan.
The Director-General added that, "One of the unique selling points of annual TIFF events is that TIFF exhibitors here are willing to take small, as well as, specialized orders. Exhibitors can fulfill an order as small as one piece and are open to receive specific orders to satisfy customer requests. Show visitors can look for the SOOK
or Small Order OK logo at the booth of such exhibitors."
Highlights of TIFF 2014 include the following:-
The T-Style exhibition will feature a collection of home decorative items with designs altered to suit the Japanese market by globally renowned Japanese designer Toshiyuki Kita.
The Demark 2013 exhibition will present award-winning furniture designs and home-decorative items under the concept "Release Your Creativity".
The Upcycling exhibition promotes the value enhancement of seemingly waste materials such as paper, plastic, fabric, thread, textiles, leather, rubber, steel and aluminum by converting them into creatively designed products of greater value.
The Thailand Trust Mark exhibition will showcase furniture items which have earned the prestigious 'Thailand Trust Mark' – a symbol of quality and global trust.
SMEs New Wave Furniture Exporters 2014 is a program designed specifically to highlight the furniture products of over 40 small-to-medium-sized furniture businesses. These operators all possess great potential but have not exported their products to overseas markets before.
The Educational Institution Furniture Design Exhibition will offer a platform for budding young designers to shine, presenting furniture items designed by students from 10 institutions. It also provides an opportunity for these designs to enter the 'real market'.
The Design Plant project features distinctively designed items, as well as, work created through collaboration between designers and furniture businesses.
For more information on TIFF 2014, please visit http://www.thailandfurniturefair.com.