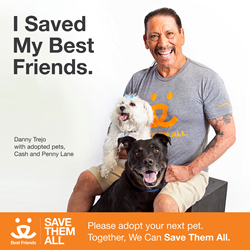 I think the job that Best Friends is doing is wonderful and I am glad to be a part of the Save Them All campaign.
Los Angeles (PRWEB) March 04, 2014
One of Hollywood's most recognizable character actors, Danny Trejo, has joined Best Friends Animal Society's campaign urging people to get involved in saving America's homeless dogs and cats.
Trejo, currently co-starring opposite comedian George Lopez in the FX Network comedy "Saint George," debuting March 6 and in Disney's "Muppets Most Wanted" in theatres March 21, is best known for his memorable roles in such films as "From Dusk Til Dawn," "Heat," "Con Air," "Spy Kids" and "Machete Kills," as well as the popular television series "Breaking Bad" and "Sons of Anarchy".
Typically cast as a tough guy or hardened criminal, Trejo is all heart when it comes to caring for his five rescued dogs.
Trejo will be featured in a Best Friends' photo campaign that will feature celebrities posed with their personal rescued dogs and/or cats in support of the Save Them All® call to action.
According to national statistics, each day more than 9,000 dogs and cats die in the nation's shelters. Best Friends has brought increased awareness to how people can get involved in the solution by Adopting, and spaying/neutering their pets, donating, volunteering and sharing this message with their friends.
"I believe that anyone working with animal rescue has a special place in heaven waiting for them," says Trejo. "I think the job that Best Friends is doing is wonderful and I am glad to be a part of the Save Them All campaign. Animals have an unconditional love for their owners; dogs are a man's best friend."
About Best Friends Animal Society®
Best Friends Animal Society is the only national animal welfare organization focused exclusively on ending the killing of dogs and cats in America's shelters. An authority and leader in the no-kill movement since its founding in 1984, Best Friends runs the nation's largest no-kill sanctuary for companion animals, as well as life-saving programs in partnership with rescue groups and shelters across the country. Since its founding, Best Friends has helped reduce the number of animals killed in shelters from 17 million per year to about 4 million. Best Friends has the knowledge, technical expertise and on-the-ground network to end the killing and Save Them All®.
To like Best Friends Animal Society on Facebook go to: http://www.facebook.com/bestfriendsanimalsociety
Follow Best Friends on Twitter: http://twitter.com/bestfriends
###