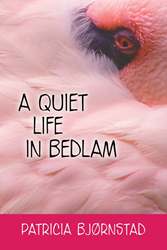 The prose describes beautifully and graphically what it was like to be a woman in those rapidly changing, revolutionary times...
(PRWEB) March 05, 2014
Romantic notions and hunger for adventure drive Kate to a passionate love affair that leads to a seemingly picture-perfect marriage. Kate soon realizes her small-town Southern upbringing hasn't prepared her for the harsh realities of life. Her desire for love is strong, but her free-spirited nature is even stronger. She escapes A Quiet Life In Bedlam to find something more.
This coming-of-age story about a girl who grows up in the crazy world of the 1960s shows what it was like to live in those revolutionary times. As Kate searches for love, she fends off danger and her search proves to be a funny, tender and outrageous love story.
Watch the video book trailer at: https://www.youtube.com/watch?v=vMnMbYBw4o8
A QUIET LIFE IN BEDLAM is now available in softcover (ISBN: 978-1-61897-485-3 at $23.95) and hardcover (ISBN: 978-1-60860-212-4 at $33.50), and can be ordered through the publisher's website:
http://sbpra.com/PatriciaBjornstad or at www(dot)amazon(dot)com or www(dot)barnesandnoble(dot)com.
WHOLESALERS: This book is distributed by Ingram Books and other wholesale distributors. Contact your representative with the ISBN for purchase. Wholesale purchase for retailers, universities, libraries, and other organizations is also available through the publisher; please email bookorder(at)aeg-online-store(dot)com
About the Author: First-time author Patricia Bjornstad spent her childhood in Memphis. She moved to Norway with her husband in 1987, where she studied English literature, linguistics, and education. She has taught English and drama at a Norwegian high school and is pursuing a writing career after retirement. Her next book is about her experiences immigrating to Norway.
Strategic Book Publishing and Rights Co, LLC