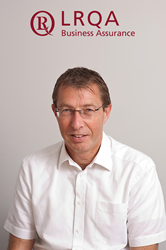 LRQA is actively involved in the major technical and working group committees managing the revision of the leading management system standards, and through this work, we are helping to shape the future of our industry
(PRWEB UK) 5 March 2014
ISO/TC 207/SC WG 5 - the ISO 14001 Technical Committee Working Group - concluded their latest meeting in Padua on 1st March with one of the outputs resulting in a more defined timeline for the publication of the world's most widely adopted environmental management system standard.
For clarity, an International Standard is the result of an agreement between the member bodies of the International Organization for Standardization (ISO). It may be used as such, or may be implemented through incorporation in national standards of different countries. International Standards are developed by ISO technical committees (TC) and subcommittees (SC) by a clearly defined process and all International Standards are reviewed at least every five years by all the ISO member bodies.
"LRQA is actively involved in the major technical and working group committees managing the revision of the leading management system standards, and through this work, we are helping to shape the future of our industry," said LRQA Technical Director, David Lawson. "Whilst the dates set out below are confirmed, there is the possibility that these may change due to external circumstances."
ENVIRONMENTAL MANAGEMENT SYSTEM STANDARD ISO 14001:2015

May 2014: ISO/CD(1) 14001.2 final comments resolution from ISO/TC 207/SC WG 5 and finalisation for DIS(2)
June 2014: Final Preparation of DIS documentation
July - August 2014: ISO 14001 DIS process begins at ISO
September - December 2014: DIS 3 month ballot period
December 2014: Results of DIS vote and circulation of comments
March 2015: ISO 14001 FDIS(3) process begins at ISO
April - May 2015: FDIS ballot
June/July 2015: Publication
Given that during the meeting last week, the assembled committee members had to review over 350 pages of comments relative to CD2 of ISO 14001, these revised dates are a testament to the commitment and focus of the various technical and working group committee members from around the world that are in the process of revising all of the major ISO standards – including ISO 14001.
Further information about the ISO Standard Revisions - to include blogs and round table discussions - will appear on http://www.lrqa.com. Alternatively, please email enquiries(at)lrqa(dot)com.
(1) Committee Draft
(2) Draft International Standard
(3) Final Draft International Standard
Notes to editors
LRQA is a leading independent provider of Business Assurance services including certification, validation, verification and training.
LRQA is a division of Lloyd's Register, a global engineering, technical and business services organisation wholly owned by the Lloyd's Register Foundation, a UK charity dedicated to research and education in science and engineering. Founded in 1760 as a marine classification society, Lloyd's Register now operates across many industry sectors, with over 9,000 employees in the Group across 78 countries.
Lloyd's Register has a long-standing reputation for integrity, impartiality and technical excellence. Our compliance, risk and technical consultancy services give clients confidence that their assets and businesses are safe, sustainable and dependable. Through our global technology centres and research network, Lloyd's Register is at the forefront of understanding the application of new science and technology to future-proof our clients' businesses.