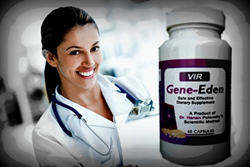 Hispanic Americans are already at a high risk for stroke according to research. Studies clearly show that herpes viruses increase the risk even further. - Mike Evans, polyDNA
Rochester, NY (PRWEB) March 10, 2014
The American Heart Association (AHA) reports a study where, "Researchers analyzed stroke care for Hispanic and non-Hispanic patients according to demographics and clinical characteristics in states bordering Mexico and states not on the Mexican border (1)." The study concluded that, "Hispanic stroke patients were 30 percent more likely than non-Hispanics to die in border state hospitals (1)." The difference in death rates could be due to differences in treatment. The study showed that 4.8% of Hispanic vs. 5.7% of non-Hispanic patients received drugs designed to help break up blood clots associated with stroke. (1). polyDNA recommends that Hispanic individuals concerned about a stroke speak to their doctors about Gene-Eden-VIR. This natural antiviral was designed to target latent herpes viruses, which research has shown may lead to a stroke.
Another study showed that "Mexican Americans are the largest subgroup of Hispanics, the largest minority population in the United States. Stroke is the leading cause of disability and third leading cause of death (in this population)." (See The American Journal of Epidemiology from 2004) (2). Moreover, "Mexican Americans have an increased incidence of intracerebral hemorrhage and subarachnoid hemorrhage compared with non-Hispanic Whites adjusted for age, as well as an increased incidence of ischemic stroke and transient ischemic attack at younger ages compared with non-Hispanic Whites (2)."
A third study found that "Mexican Americans have an increased risk of stroke especially at younger ages, as well as a higher prevalence of infections caused by several persistent pathogens." (See PLoS One, from 2013) (3). Some of these persistent pathogens have a higher prevalence in Mexican Americans, including herpes viruses (3).
Infection with the VZV virus (a herpes virus) increases the risk of stroke, transient ischemic attack, and heart attack dramatically. "HZ is an independent risk factor for vascular disease … particularly for stroke." (See Neurology, from January 21, 2014) (4).
"Shingles is caused by the Varicella Zoster Virus, the same virus that causes chickenpox. After a person recovers from chickenpox, the virus stays in the body in a dormant (inactive) (latent) state. For reasons that are not fully known, the virus can reactivate years later, causing shingles." (See the CDC's website last updated on January 10, 2011) (5).
"Hispanic Americans are already at a high risk for stroke according to research. Studies clearly show that herpes viruses increase the risk even further. We therefore recommend Gene-Eden-VIR, a natural antiviral that was proven to be safe and effective in a clinical study that followed FDA guidelines." – Mike Evans, polyDNA
In a post marketing clinical study published on August 12, 2013 in the medical journal Pharmacology & Pharmacy in a special edition on Advances in Antiviral Drugs, researchers showed that Gene-Eden-VIR is safe and effective (6). Additionally, up to 70% of those studied reported a decrease in viral symptoms, and users experienced an increase in overall health (6).
Each ingredient of Gene-Eden-VIR was chosen through a scientific approach. Scientists scanned thousands of scientific and medical papers published in various medical and scientific journals around the world to identify the safest, most effective natural ingredients that target latent viruses (6).
To learn more about Gene-Eden-VIR and herpes, visit: http://www.gene-eden-kill-virus.com. All orders of Gene-Eden-VIR are completely confidential, and no information is shared or sold to any third party. Privacy is assured.
Reference:
(1) Hispanic stroke patients less likely to receive clot-busting drugs in border state hospitals, study shows. Published on February 13, 2014.
http://www.sciencedaily.com/releases/2014/02/140213184806.htm
(2) Excess Stroke in Mexican Americans Compared with Non-Hispanic Whites
The Brain Attack Surveillance in Corpus Christi Project. Published in 2004.
http://aje.oxfordjournals.org/content/160/4/376.full
(3) Antibody levels to persistent pathogens and incident stroke in Mexican Americans. Published on June 14, 2013.
http://www.ncbi.nlm.nih.gov/pubmed/23799066
(4) Herpes zoster as a risk factor for stroke and TIA: a retrospective cohort study in the UK. Published on January 21, 2014.
http://www.ncbi.nlm.nih.gov/pubmed/24384645
(5) CDC - Shingles (Herpes Zoster). Last updated January 10, 2011.
http://www.cdc.gov/shingles/about/overview.html
(6) Gene-Eden-VIR Is Antiviral: Results of a Post Marketing
Clinical Study. Published in September, 2013.
http://gene-eden-kill-virus.com/PP_Gene-Eden-VIR-is-Antiviral.pdf
polyDNA is a biotechnology company that develops dietary supplements using the unique scientific method developed by Dr. Hanan Polansky, which is based on Computer Intuition.
In addition to his unique scientific method, Dr. Polansky published the highly acclaimed scientific discovery, called Microcompetition with Foreign DNA. The discovery explains how foreign DNA fragments, and specifically, DNA of latent viruses, cause most major diseases.
polyDNA developed Gene-Eden-VIR , an antiviral natural remedy that helps the immune system kill latent viruses.