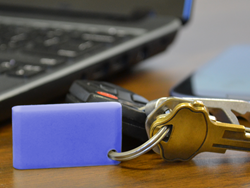 We're looking forward to leveraging the Kickstarter pledges to add advanced features to our product that everyone will find useful.
COLLEGE PARK, Md. (PRWEB) March 04, 2014
CoolCAD Electronics LLC, a University of Maryland-based electronics design company, beat the Kickstarter campaign goal for its new GateKeeper Chain in just eight days, company officials announced today.
GK-Chain is a versatile Bluetooth Smart tracker that helps keep track of valuables, prevents leaving phone/keys behind, and locks and unlocks a user's computer as they leave and return.

Attach GK-Chain to a valuable such as a purse, luggage, or even pets or children, and get an alert when they stray too far away.
Lock and unlock Mac/PC automatically based on proximity
Use our mobile app to locate lost items
With $110% raised against its $12K target, CoolCAD is now focusing on stretch goals of up to $24,000 with additional product features planned including:

GateKeeper for Macintosh computers and a buzzer feature to help you find your phone
iOS support
GK-Chains in green, blue and orange (new colors)
CoolCAD is also working on new designs and product integrations for GateKeeper, one of which attaches the device to a company's identification badge, after which the badge will serve as an additional security tool to lock and unlock an employee's computer.
"We're looking forward to leveraging the Kickstarter pledges to add advanced features to our product that everyone will find useful," said Electrical and Computer Engineering graduate Dr. Siddharth Potbhare (M.S. 2005, Ph.D. 2008), who co-founded CoolCAD. "We'll continue collecting feedback and build GateKeeper into a premier security and tracking device with the support of our backers."
GK-Chain works over Bluetooth 4.0 (Bluetooth SMART) wireless technology, combining a personal sensor with an encrypted connection that helps people lock their Mac/PC. Rewards for backers of the GK-Chain Kickstarter campaign include access to pre-production-run prototypes, custom gold or silver key fobs, laboratory tours with CoolCAD's engineers and designers, and up to 50 hours of one-on-one consulting to create customized products, which could include logos, additional branding and optional form factors.
CoolCAD's ten-member team includes Co-Founders UMD Electrical and Computer Engineering and Institute for Systems Research Professor Neil Goldsman and Vice President and UMD alumnus Dr. Akin Akturk, who earned his Ph.D. in Electrical and Computer Engineering in 2006. CoolCAD is a member of the Technology Advancement Program incubator, an initiative of the Maryland Technology Enterprise Institute (Mtech) in the A. James Clark School of Engineering, whose graduates include Martek Biosciences and Digene Corporation, both of whom were acquired for more than $1 billion.
CoolCAD has acquired R&D projects and subcontracts totaling over $4 million over the past five years, including Phase I and II SBIRs/STTRs and Mtech Maryland Industrial Partnerships grants.
About CoolCAD Electronics, LLC (http://www.coolcadelectronics.com)
CoolCAD Electronics is a computer-aided design (CAD) and custom electronics design firm that specializes in electronic design applications. Expertise ranges from nanostructure and device modeling, design and analysis to integrated circuit design and layout, all the way to printed circuit board-level electronics development. Specialists in semiconductor fabrication and characterization to electronics design and prototyping, and circuit modeling and simulation.
If you would like more information, please contact Alexander Lee at alexander(dot)lee(at)coolcadelectronics(dot)com.