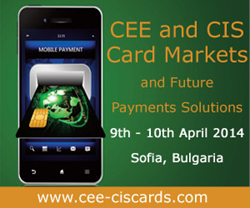 (PRWEB UK) 4 March 2014
"A robust environment of interoperability in payments systems benefits all participants in the payments ecosystem. End users, including consumers, merchants, governments, and other types of enterprises, find it easier to make and accept payments. Providers to these end users, including banks, networks, processors and other service providers, gain revenue from payments in interoperable systems that they may not be able to achieve with closed loop (or non-interoperable) systems. Interoperability in payments systems can also produce cost efficiencies and enable superior risk management." - Interoperability in Electronic Payments: Lessons and Opportunities, by Carol Coye BensonScott Loftesness, 30 May 2013, http://www.cgap.org/publications/interoperability-electronic-payments-lessons-and-opportunities
Against this background SMi has announced the addition of two new speakers to the list of key industry experts speaking at the 9th CEE and CIS Card Markets and Future Payment Solutions.
Adam Tencza, CEE Division Manager at SIBS INTERNATIONAL and Lubomir Tzekov, Chief Executive Officer at BORICA - BANKSERVICE JSC will be presenting about Interoperable payment systems - value and innovation catalyzers for the banks:

SIBS on managing interoperable payment systems and bringing benefits to the banks
BORICA-BANKSERVICE on driving Bulgaria to cutting-edge payments innovation
This conference will be the perfect platform for banks, card issuers, mobile telecom, kiosk solution providers, and non-bank payments market entrants gain a comprehensive understanding of market and technology developments for the card services and payment solutions sector in the CEE/CIS region by hearing from experienced product, strategy, and innovation leaders.
For those who are interested in attending there is a special price of £899 for banks and financial institutions.
For more information visit the website or contact Mohammed Malik on +44 (0) 20 7827 6166 or email mmalik(at)smi-online(dot)co.uk.