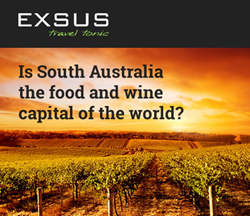 If you think Australian foodie culture extends about as far as meat pies and cold, metallic lager, then prepare to be surprised.
(PRWEB) March 06, 2014
Exsus, the luxury tour operator, and Shout, the multi-award-winning strategic digital agency, have collaborated on a long-form epicurean experience that explores the best of South Australia's burgeoning foodie scene.
With features including an exclusive interview with the region's legendary celebrity cook and restaurateur, Maggie Beer, and an exploration of the fascinating history of South Australian wine, interspersed with the view from the ground from many of the great and the good of South Australian cuisine and viniculture, the project offers a taste of a newly-minted food and wine capital. Users can discover the myriad highlights of eating and drinking SA-style, from street food festivals, to unimpeachably fresh fish, to luxe, beachy picnics, to wine that's celebrated around the world.
The project celebrates the launch of Exsus' tailor-made Australasia and South Pacific holidays, and the arrival of top Australia and New Zealand travel expert, Annette Morrissey.
To experience it for yourself, please visit:
South Australia food and Wine
The London-based tour operator specialises in creating bespoke, luxury holidays and tailor-made tours and itineraries around the world. For further information, please visit: http://www.exsus.com