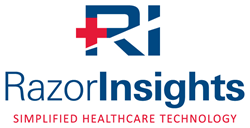 Kennesaw, GA (PRWEB) March 04, 2014
RazorInsights, a leading provider of healthcare information technology solutions for rural, critical access and community hospitals, announced recently that the company and its EHR have been recognized for their high performance in hospitals under 100 beds. Over 700 inpatient software users were polled across 18 probing key indicators from a field of 100 qualified competitors by Black Book Rankings, well-known globally for their accurate, impartial customer satisfaction surveys in the services and software industries. Black Book conducted their sweeping four month user poll to determine the highest ranked electronic health and medical record vendors.
As part of a major research focus on current e-Health initiatives, Black Book announced those vendors with the highest scores in client experience in the areas of Certification-Required EHR Functionalities, Administrative & Documentation Functionalities, Clinical Workflow Functionalities, e-Prescribing modules, Accountable Care Organization data needs and Health Information Exchange enterprises were also examined in the comprehensive study.
"Hospital leaders are seeking empirical data from EHR users to make informed vendor choices, particularly those switching systems or replacing home grown EHRs. Viable EHR vendors are actively supporting their clients past implementation, and demonstrating best-of-breed technologies through innovative solutions," said Doug Brown, managing partner of Black Book Rankings.
The intuitive design of RazorInsights' EHR solution allows physicians and other clinicians with limited technical skills to quickly transition to the new EHR system, and its innovative use of cloud technology results in seamless upgrades. Healthcare providers using the scalable solution simply maintain a low, all-inclusive monthly subscription with RazorInsights, alleviating the need to purchase and maintain a server and eliminating the purchase of a software license.
"We're very excited to be recognized by this important, independent study," said Reed Liggin, CEO of RazorInsights. "Our single-database EHR solution helps clinicians improve efficiencies at the point of patient care. Additionally, the intuitive design of our EHR helps physicians and nurses jumpstart their ability to move to an electronic environment while giving them the advanced IT solutions they need," Liggin added.
About Black Book:
Since 2000, Black Book has polled the vendor satisfaction of over 400,000 current software and managed services users. They provide EHR/EMR users, media, investors, analysts, quality minded vendors, and prospective software system buyers, pharmaceutical manufacturers, and other interested sectors of the clinical technology industry with comprehensive comparison data of the industry's top respected and competitively performing technology vendors. Black Book employs in-depth key performance indicators targeted at ensuring high product and service performance through comparing vendors from the customer experience. For methodology, auditing, resources, comprehensive research and ranking data, visit http://www.blackbookrankings.com.
About RazorInsights:
Based in Kennesaw, Georgia (in the metro Atlanta area), RazorInsights is a dynamic healthcare information technology company. In keeping with the principle of Occam's Razor, the company has created a simplified HIS solution for rural and critical access hospitals – ONE, and ONC-certified, single-database cloud solution offering a simple user experience with cutting-edge clinical tools and industry-standardized data. Hospitals can expect to improve their performance and bottom line with ONE from RazorInsights. For more information, visit http://www.razorinsights.com or call 770-308-4111.
###