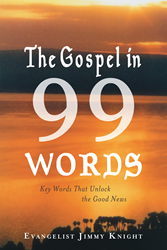 A story cannot be understood if the words used to tell it are confusing to the reader.
Laurel, Miss. (PRWEB) March 06, 2014
There is simply no book more controversial than the Bible: for centuries, humans have argued about the validity and implications of scripture. Its passages contain words like "atonement" and "sanctification." How can a book like that be relevant to life today?
Jimmy Knight, founder and president of the Jimmy Knight Evangelistic Association, hopes to clarify the language used in the Bible so that it will be understandable in the 21st century. He stresses that a story cannot be understood if the words used to tell it are confusing to the reader.
"I've found that a word doesn't always mean the same thing to every person in every situation. Even the connotation of a word may be different enough to cause confusion," Knight said. "Words are important, and their meanings are essential to effective communication."
Knight's new book, "The Gospel in 99 Words," acts as a dictionary of sorts. The author chose 99 words used in the Bible that are commonly misunderstood and unpacked their meanings based on his decades of experience studying and sharing the Bible's messages.
Knight strived to make his book relevant regardless of a reader's current familiarity with the Bible. It acts as an easy-to-follow text for students learning about scripture, a reference book that will give new perspective to church leaders and a helpful guide to Christians who hope to delve deeper into their faith. Knight also hopes it will be beneficial for those who have questions about their faith or lack thereof and who are looking for answers.
Knight worked as a traveling evangelist for 27 years, but physical illness took him off the road in 2006. He sees the book as an opportunity to have a meaningful impact on the lives of others despite the limitations caused by his physical struggles.
"The Gospel in 99 Words"
By Jimmy Knight
ISBN 978-1462729685
Available for purchase at Amazon, Barnes and Noble and CrossBooks online bookstores.
About the author
Jimmy Knight resides in Laurel, Miss., with his wife. He is an alumnus of William Carey University (Hattiesburg, Miss.) and the former Clarke College (Newton, Miss.) and continued his studies at Luther Rice Seminary (Atlanta).