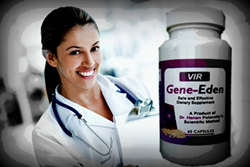 'With so many different viruses linked to diabetes, Hispanic Americans need a broad range antiviral product. We recommend Gene-Eden-VIR. We also recommend speaking to the doctor about the product.' – Mike Evans, polyDNA
Rochester, NY (PRWEB) March 11, 2014
polyDNA has learned that "Hispanic/Latino individuals, and other ethnic minorities bear a strikingly disproportionate burden of diabetes mellitus in the United States." (See the journal Circulation, from December 18, 2013) (2). In fact, "According to national examination surveys, Mexican Americans are almost twice as likely as non-Hispanic whites to be diagnosed with diabetes by a physician. They have higher rates of end-stage renal disease, caused by diabetes, and they are 50% more likely to die from diabetes as non-Hispanic whites." (See http://minorityhealth.hhs.gov/, last modified on March 12, 2013) (3). Researchers point to two reasons why diabetes is on the rise in the Hispanic American community. The first is being overweight. "Hispanic and African-American women were more likely to consider their weight normal when in fact they were overweight (1)." The second is the Epstein Barr Virus. Research shows that the EBV might trigger the onset of diabetes. (See dlife.com, from May 2013) (4). polyDNA recommends Gene-Eden-VIR to Hispanic Americans. This natural antiviral was proven to reduce symptoms associated with EBV infections in a post-marketing clinical study that followed FDA guidelines.
Doctors usually recommend exercise, eating fiber, eating whole grains, losing extra weight, and making healthy food choices, when it comes to preventing diabetes. (See Advances in Virology, from January 13, 2012) (5). Most Hispanic Americans with diabetes are urged to exercise and lose weight. However, being overweight is considered a sign of beauty by members of the Hispanic community. As Elma Dieppa, a Hispanic blogger, wrote "This is the problem within the Hispanic community. We love our curves, but the line between beautiful and deadly curves is blurred (1)."
The problem of diabetes in the Hispanic population is further clarified by the CDC. "Lifetime risk estimates for developing diabetes are higher for both Hispanic men and women than for other ethnic groups. Hispanic women born in 2000 have a 52.5 percent risk of developing diabetes in their lifetime while Hispanic men have a 45.4 percent risk. That compares to a 31.2 percent risk for non-Hispanic white females and 26.7 percent risk among non-Hispanic white males and a 49.0 percent and a 40.2 percent risk among African American women and men, respectively." (See the CDC's fact sheet on diabetes) (6).
Since new research links the Epstein Barr Virus to diabetes, polyDNA recommends Gene-Eden-VIR to Hispanic Americans. In fact, several common viruses are now linked to diabetes. An article reviewed by Dr. Jason C. Baker M.D. noted that, "Viruses that have been associated with type 1 diabetes as environmental triggers include coxsackie B, enteroviruses, adenovirus, rubella, cytomegalovirus, and Epstein-Barr virus (4)."
"With so many different viruses linked to diabetes, Hispanic Americans need a broad range antiviral product. We recommend Gene-Eden-VIR. We also recommend speaking to the doctor about the product." – Mike Evans, polyDNA
A study published on August 12, 2013 in the peer reviewed, medical journal Pharmacology & Pharmacy, in a special edition on Advances in Antiviral Drugs, showed that Gene-Eden-VIR reduced viral symptoms. Study authors wrote that, "We observed a statistically significant decrease in the severity, duration, and frequency of symptoms (7)."
To learn more about Gene-Eden-VIR, visit http://gene-eden-kill-virus.com/.
All orders of Gene-Eden-VIR are completely confidential, and no information is shared or sold to any third party. Privacy is assured.
References:
(1) Beautiful but deadly: Latinos' curves put them at risk. Published on October 17, 2013.
http://edition.cnn.com/2013/10/15/health/latino-cardiovascular-disparities/
(2) Circulation - AHA Statistical Update - Heart Disease and Stroke Statistics—2013 Update - December 12, 2012.
http://circ.ahajournals.org/content/127/1/e6
(3) U.S. Dept. of Health & Human Services - The Office of Minority Health - Diabetes and Hispanic Americans. Last modified on March 3, 2013.
http://minorityhealth.hhs.gov/templates/content.aspx?ID=3324
(4) dlife.com - Type 1 Causes. Last reviewed on May 2013.
http://www.dlife.com/diabetes/type-1/diabetes-causes
(5) Epstein-barr virus as a trigger of autoimmune liver diseases. Published in 2012.
http://www.ncbi.nlm.nih.gov/pubmed/22693505
(6) CDC - Fact Sheet - Prevalence of Diabetes among Hispanics In Six U.S. Geographic Locations.
http://www.cdc.gov/diabetes/pubs/pdf/hispanic.pdf
(7) Gene-Eden-VIR Is Antiviral: Results of a Post Marketing Clinical Study. Published on August 12, 2013.
http://gene-eden-kill-virus.com/PP_Gene-Eden-VIR-is-Antiviral.pdf
polyDNA is a biotechnology company that develops dietary supplements using the unique scientific method developed by Dr. Hanan Polansky, which is based on Computer Intuition.
In addition to his unique scientific method, Dr. Polansky published the highly acclaimed scientific discovery, called Microcompetition with Foreign DNA. The discovery explains how foreign DNA fragments, and specifically, DNA of latent viruses, cause most major diseases.
polyDNA developed Gene-Eden-VIR, an antiviral natural remedy that helps the immune system kill latent viruses.