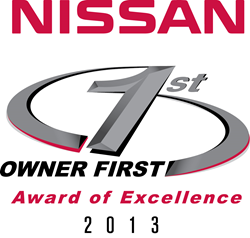 We gladly accept this prestigious award and are honored to be one of the three dealerships in the state of Maryland to receive this award
Hurlock, Maryland (PRWEB) March 05, 2014
This just announced: Nissan has recognized Preston Nissan with the Owner First Award of Excellence for 2013 for exceeding sales expectations, superior customer satisfaction, and customer retention in the service department. Only 3 dealers in the State of Maryland qualified for this prestigious award. There is a long list of requirements a dealership must meet in order to earn this prestigious award. In retail sales the dealership must sell a minimum of 300 new Nissan retail units for program period. When it comes to customer satisfaction a dealership must maintain focus on specific processes that drive market share, advocacy and customer sales/service retention. Dealerships must also be 100% certified in conjunction with the Owner First Fund Official Program Rules. Also the Nissan Dealer must be in good standing with Nissan North America. They do this by maintaining a relationship of mutual understanding and cooperation with NNA and being in substantial compliance with the sales and service agreement obligations.
The Nissan Owner First Award of Excellence is the highest award presented by Nissan North America to Nissan Dealers. This award recognizes Nissan's top dealers from across the nation who were able to meet the high standards of achievement for the Owner First Award of Excellence. Each winning dealership receives a Nissan Owner First Award of Excellence trophy. This trophy is customized recognizing the dealership's efforts and commitment to customer satisfaction. They also receive three sets of business cards. Dealerships who win this award also get to use the program artwork. This features Nissan's Owner First Award of Excellence logo which can be used in letterheads, business cards, print ads, local ads and press releases. They also get acknowledgment in the Nissanusa.com Dealership locater. Lastly, they get recognition in Automotive News; Nissan North America publishes an advertisement in Automotive News acknowledging winners.
Preston Nissan is able to provide their most popular models, the Nissan Altima, Nissan Sentra, Nissan Maxima, Nissan Frontier, and the newly redesigned Nissan Rogue to customers all over the Delmarva Peninsula. It excites Preston Nissan to have the Preston Automotive Group logo on cars, trucks, and SUVs all over the eastern shore including Salisbury, Maryland and Dover, Delaware. "I love selling the Nissan brand," says Howard Dixon of Preston Nissan. "Customers love the quality product and it is our job to keep up the customer service; it is good to know that we succeed."
In the year of 2012, Howard Dixon Jr was given the Owner First Award of Excellence as a salesperson and Kathy Collins was given the award for service. J.T. Thompson, General Manager of Preston Nissan stated, "We gladly accept this prestigious award and are honored to be one of the three dealerships in the state of Maryland to receive this award."
About Preston Automotive Group
Preston Automotive Group services the Delaware, Maryland, Virginia and Pennsylvania areas with Ford, Lincoln, Mazda, Hyundai, and Nissan brands. The auto group carries the largest selection of new and used cars and trucks. Additionally, the dealership services all makes and models, both imported and domestic cars with ASE certified and factory trained technicians. To further serve your automotive needs the Preston Automotive Group is also home to 3 auto body shops conveniently located around Delmarva in Preston, Cambridge, and the newest facility in Snow Hill, Maryland.