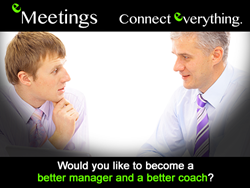 Fairfield, NJ (PRWEB) March 05, 2014
Vision-e today announced the availability of its eMeetings app on the Salesforce AppExchange, empowering businesses to connect with customers, partners and employees in entirely new ways. A completely unique product on the AppExchange, eMeetings' PDF packages are designed to help sales managers become outstanding sales coaches by facilitating those all-important 1:1 meetings and coaching sessions.
eMeetings packages are fast and easy to create. With only a few clicks of the mouse, the manager can quickly gather in one PDF package various Salesforce reports and dashboards that the manager and the salesperson have created, which are based on data from inside the company's Salesforce org.
To simplify the process even more, eMeetings packages can be scheduled to run and be emailed to the manager routinely. Automating the process all but guarantees that those critical 1:1 meetings and coaching sessions, vital components of any successful sales coaching program, are held on a regular basis.
eMeetings Helps Managers Hold Consistent, Regular Coaching Sessions with Sales Team Members
It is no secret that holding frequent coaching sessions with sales staff is a critical component of success. However, due to increasingly busy schedules, it is easy to push off these sessions for weeks and sometimes months. eMeetings helps sales managers stay on track by emailing, right to the manager's inbox, a completed eMeetings PDF package. Whether coaching sessions are to be held weekly, bi-weekly, or on some other schedule, eMeetings does the preparation work automatically, and then helps to remind the manager and salesperson of the forthcoming meeting.
Comments on the News
As stated in to "How to Build a Winning Sales Organization," a 2013 Salesforce video about how to turn all your reps into A players, "For feedback to be meaningful, it has to be timely." Annual, and even quarterly reviews are not enough. What is needed is "instant feedback." eMeetings makes meeting preparation so easy that giving "instant feedback," based on metrics from within the user's Salesforce org, is an almost effortless activity.
Product Key Features
A completely unique product, eMeetings creates consistent, timely, automated reports, perfect for 1:1 meetings and coaching sessions. A few of its most popular features include:
Automatic PDF Report Creation
Set up reports once, then publish them, as PDF files with just the push of a button--or use the auto-scheduler feature and have those PDF files created and delivered automatically via email.
Auto Scheduler
Create eMeetings packages on any schedule--daily, weekly, monthly, annually--then have them delivered by email. No more missed meetings or coaching sessions!
Custom Metrics
Create a completely custom report using Salesforce reports or dashboards.
Time-Saving Templates
eMeetings reports can be cloned then used as a templates, allowing users to quickly create the same report for various salespeople within the organization.
Additional Resources

About the AppExchange
The Salesforce AppExchange is the world's leading business apps marketplace. With more than 1,800 partner apps and 1.7 million customer installs it is the most comprehensive source of social and mobile cloud apps for business. The Salesforce Platform is the world's most trusted and comprehensive cloud platform for building social and mobile cloud apps, powering Salesforce CRM, and more than 3 million custom apps built by customers and partners. Apps built on the Salesforce Platform can be easily distributed and marketed through salesforce.com's AppExchange.
Salesforce, AppExchange and others are trademarks of salesforce.com, Inc.
About Vision-e
Vision-e, in alliance with Salesforce, is a leader in CRM implementations and productivity applications. Vision-e meets the emerging needs of customers by providing rapid CRM implementation, mobile and cloud computing technologies and external system integrations.
Vision-e has the experience and expertise to deliver fast and responsive Salesforce solutions so customers get the performance they expect.
From bakers to bankers, garages to GM, Vision-e creates affordable, effective, customized Salesforce solutions for any size business, with any size budget. Vision-e puts its customers first so they can put their customers first.
"Vision-e provides elegant, highly customizable solutions that help companies of all sizes get the most out of the Salesforce platform. Vision-e: it's Salesforce…extraordinary." ~ Jule Limoli, CEO, Vision-e
For more information on Vision-e, go to http://www.Visione.com or call 888-611-2679. Vision-e is headquartered in Fairfield, NJ.