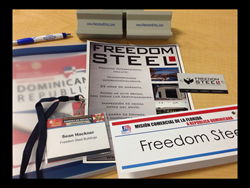 Delray Beach, Florida (PRWEB) March 05, 2014
Freedom Steel Building Corporation recently sent its Founder & Steel Specialist, Sean Hackner on The Enterprise Florida Export Development Trade Mission to the Dominican Republic this past week.
"Even though we already have buildings located in the Dominican Republic, this Trade Mission allowed us to meet with additional, qualified customers who have expressed an interest in our product," says the steel building company's current CEO Pascal Gibert.
Even though it was a hectic schedule, Enterprise Florida together with the US Embassy made sure that valuable meetings were set with companies who had a need for Freedom's products and services. These introductions were the stepping stones to professional visits with those companies at their respective locations.
Hackner recalled from his experience at the mission: "We immediately signed an agreement with one company who in the past had been dealing with one of our competitors. They were impressed with the fact that Freedom Steel's business demeanor also had a personal approach not often found in our industry. They also appreciated that we could provide answers to questions regarding pricing, shipping, manufacturing and lead-time on the spot; which made it easier for them to make a confident decision almost instantly."
Freedom Steel looks forward to the next trade mission to other international areas they are already servicing. Gibert sees this as an opportunity to further expand and the corporation and become the brand of choice for all steel building consumers.
ABOUT FREEDOM STEEL
Freedom Steel's buildings are shipped factory direct from any one of their 18 factories across the continental Unites States. Freedom Steel also provides buildings for anywhere in the world, including a heavy concentration in the Caribbean and Canada; as well as projects in Central and South Americas, Africa and Europe. Freedom Steel's factories have the ability to construct prefabricated buildings of any size with clear-span options as wide as 250'. Along with all of the government funded projects, Freedom Steel ships hundreds of buildings per year to customers needing barns, garages, riding arenas, gymnasiums, churches, workshops, residences and more. Stamped, certified and state sealed drawings are included for every project. Freedom Steel buildings come standard with such "upgrades" as PBR roof and wall panels, pre-welded clips and pre-punched door openings. They also offer an array of accessories for the consumer including garage and entry doors, windows, insulation, vents, skylights and canopies. Freedom Steel's international headquarters is located in Delray Beach, FL, where any and all (potential) customers are welcome to visit anytime. For more information, please contact: Jeff Garfield at 1-800-630-2846 or visit online at http://www.freedomsteel.com.