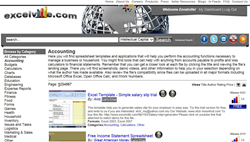 "EXV Consult eases the task of selling consulting work, which is one of the most challenging aspects of growing a consulting firm"
Atlanta, GA (PRWEB) March 18, 2014
An exciting new technology called EXV Consult helps consultants get discovered and build critical client relationships. EXV Consult is a new service from Excelville.com that allows buyers of consulting services to select and directly contact consultants based on their industry, area of expertise, and track record. Consultants can upload Intellectual Capital such as sanitized methodology slide decks, spreadsheet models, and white papers to Excelville.com. These documents then appear in search engines like, Google, Yahoo, and Bing, and can be previewed and/or downloaded by potential clients. Consultants have the option to sell or offer their Intellectual Capital downloads for free. Clients who would like to hire the consultant for an engagement could simply visit the consultant's Excelville.com profile and contact the consultant via chat conversation by clicking the "Lets Chat" button. The client can also review the consultant's Track Record to get an idea for the consultant's capability and past performance prior to hiring them for an engagement.
EXV Consult includes features unlike typical chat services. EXV Consult includes a "HireMe" button that initiates a dialog where the scope of work, timeline, pricing, and other terms of engagement can be negotiated. Once both parties have agreed to the terms, the buyer makes the financial transaction to initiate the project. This transaction is held in a secured account until the buyer releases the funds to the consultant. This is done to minimize risk for the buyer and help ensure satisfactory work. The buyer is also required to leave ratings and reviews for the consultant before releasing funds. Consultants can then use these ratings and reviews as testimonials to sell future work. Meanwhile, any document transfers and conversations between the buyer and the consultant can be facilitated using EXV Consult, which keeps records of all conversations and transfers.
According to Calvin Williams, Management Consultant and founder of Excelville.com, "EXV Consult eases the task of selling consulting work, which is one of the most challenging aspects of growing a consulting firm".
Excelville.com is a marketplace for consulting products and services. The site was launched in 2011 as a marketplace for spreadsheet models and recently re-launched to expand its offering to include all consulting products and services. EXV Consult and Excelville.com are registered trademarks of Excelville, LLC.
Contact Information:
Calvin Williams can be reached for further comments at admin(at)excelville(dot)com or 404 480-2307.