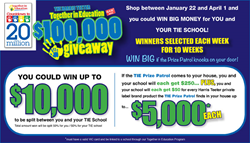 Matthews, N.C. (PRWEB) March 04, 2014
Last Saturday, March 1, 2014, as part of Harris Teeter's Together in Education (TIE) $100,000 Giveaway, Harris Teeter's TIE Prize Patrol visited the homes of nine Very Important Customer (VIC) cardholders in Greensboro N.C. and gave away a total of $5,000 to the customers and another $5,000 to their TIE schools.
During the $100,000 Giveaway, Weekly Contestants ("Winners") are randomly drawn and awarded up to $10,000, the total prize being determined by the number of Harris Teeter Brands founds in their homes. The winner(s) automatically receives $500, to be split evenly with the TIE school to which their VIC card is linked. Additionally, for each Harris Teeter Brand product found in a winner's home, Harris Teeter gives away another $100, to be split with the same school. The TIE Prize Patrol continues visiting homes until the entire $10,000 is awarded for a particular week.
Harris Teeter also selects and advertises a Bonus Item each week. The Bonus Item is worth a total of $500. The Week 5 Bonus Item Fresh Foods Market Soup was not found in the winners' homes; the Week 6 Bonus Item is Harris Teeter Bottled Water, 24-pack.
Week 5 Winners:
Mary Ann Hoffman, Canterbury School, 27 HT Brands, $3,200
Sara Strandberg, Southeast Guilford High School, 19 HT Brands, $2,400
Lydia Bolmer, Erwin Montessori Elementary, 9 HT Brands, $1,400
Mary Michaux, High Point Friends School, Inc., NA, $500
Nina Harmon, Claxton Elementary School, NA, $500
Janice Roback, Page High School, NA, $500
David Forster, Early College at Guilford Robotics Club, NA, $500
Amy Ferguson, Our Lady of Grace, NA, $500
Mary Wall, Western Guilford High Soccer Program, NA, $500
Week 4 Winners:
Shannon Reed, Paisley Magnet School, 50 HT Brands(Including the weekly Bonus Item), $5,900
Jeffery England, Morgan Elementary School, 22 HT Brands (Including the weekly Bonus Item), $3,100
Bonnie Smith, North Hills Elementary, NA, $500
Sandra Lahaie, Hanes Middle School, NA, $500
Week 3 Winners:
Andrew Cudahy, Butler High School, 51 Brands, $5,600
Kelly Turner, Covenant Day School, 39 HT Brands, $4,400
Week 2 Winner:
The Parada Family, South Mecklenburg High School Lacrosse, m95 HT Brands, $10,000
Week 1 Winner:
David Brown, Carrboro High School PTSA, 91 HT Brands (Including the weekly Bonus Item), $10,000
Five weeks remain in the contest; be sure your VIC card is linked to a TIE school for a chance to participate in the $100,000 Giveaway.