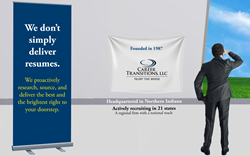 Prezi communicates our services in a fun and creative way, and makes a lasting impression - Brian Hulecki, Career Transitions Director
Mishawaka, IN (PRWEB) March 04, 2014
Career Transitions, LLC is using the innovative presentation tool, Prezi, to better engage clients and potential clients. The latest addition to the Career Transitions website is a Prezi presentation that showcases the company and its Talent Acquisition, Contract Staffing and CareerSmart Outplacement services.
Unlike traditional slidedecks, Prezi offers a fresh approach to visualization, engaging the viewer in a dynamic way using a zooming, virtual canvas.
"Prezi makes presenting ideas visually interesting and engages clients better than traditional presentation tools, both inside and outside of the boardroom," said Brian Hulecki, Career Transitions Director. "Prezi is becoming the standard way in which Career Transitions highlights our company and our services."
In an interactive and visually interesting way, Career Transitions Prezi highlights 1) Talent Acquisition 2) Professional Contract Staffing 3) CareerSmart Outplacement 4) Job Seeker Services. View the Career Transitions Prezi here.
"We expect our Prezi, in some cases, to be a potential client's first impression of our company," Hulecki said. "Prezi communicates our services in a fun and creative way, and makes a lasting impression."
About Career Transitions
Founded in 1987, Career Transitions, a subsidiary of Electronic Commerce, Inc. (ECI), is committed to helping organizations hire, retain, and transition employees, allowing companies to focus on core business objectives. Career Transitions services provide advanced strategies that evaluate each company's unique culture, passion, and skill requirements. Whether you are experiencing explosive growth or constricted market conditions, Career Transitions' suite of services are designed to meet your customized needs. Through Talent Acquisition, Professional Contract Staffing, and CareerSmart Outplacement, Career Transitions has the experience to become an extension of your human resources team. Learn more at careertransitionsllc.com.
About Prezi
Prezi is a virtual whiteboard that transforms presentations from monologues into conversations: enabling people to see, understand, and remember ideas. Learn more at prezi.com.
For additional information, please contact:
Leanne Phillips
Director of Marketing
Electronic Commerce, Inc.
2810 Dexter Drive
Elkhart, IN 46514
574-970-4400
lphillips(at)ecipay(dot)com