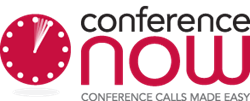 We operate as part of the MeetingZone Group
(PRWEB UK) 12 March 2014
Conference calling is a staple of modern communication in the business world. A streamlined, efficient way of connecting multiple participants on a call, all it takes is a PIN accessible via the new conferencenow site and the free service is ready to go.
As you would expect from conferencenow, its new website is simple to navigate and comprehensive in content. It gets straight to the service in three quick steps, complete with an on-site email template that includes the dial-in and PIN, and provides a guide to the in-call features of the service.
The new conferencenow site also includes simple tools to make call conferencing easy to manage with access to Outlook plug-in, available to download on-site. This feature enables users to schedule conference calls, invite colleagues and set reminders, while a personalised credit-card sized card printed with the UK access number and the user's personal PIN can also be requested.
The new website's clear design and intuitive features ensure that users can get the best from audio conferencing via the conferencenow service straight away.
"The new website is in keeping with the technology we use: easy to use, secure, resilient and with exceptional capacity," says Simon Lubin, Head of Marketing at conferencenow. "We operate as part of the MeetingZone Group, the largest independent conference call provider in the UK, providing thousands of customers throughout the world with a reliable service and bringing industry expertise to the service that is second to none."
Notes for Editors

conferencenow is free to set up and there are no fees, monthly bills or contracts involved
A simple registration process and provision of a personal PIN via the website's email template makes access to the service immediate
Users of conferencenow simply pay the cost of the phone call which is shown on their regular phone bill at a cost of 4.2p per minute [ex VAT] from a UK landline
conferencenow can be used internationally in exactly the same way with the cost of the call charged by the local telephone company
Use the Outlook plug-in available from the site to schedule conference calls, invite colleagues and set reminders
All service delivery equipment is housed in separate, secure data centres with full redundancy between them
conferencenow is part of the MeetingZone Group, market leaders in modern conference call provision in the UK
Conferencing calling has been around since AT&T first dabbled with teleconferencing 50 years ago, exhibiting their Picturephone at the 1964 New York World's Fair
For further information about conferencenow, contact Simon Lubin simon.lubin(at)meetingzone(dot)com