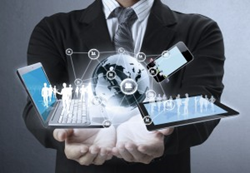 Stefanini provides a credible alternative to traditional offshore models with our flexible nearshore mobile development capabilities.
Southfield, MI (PRWEB) March 06, 2014
Stefanini, Inc. (http://www.stefanini.com), a global provider of IT Infrastructure Outsourcing, Application Development and Integration, and Strategic Staffing, announces further investment in the company's portfolio of Application Development and Consulting Services. In the past six months, Stefanini has significantly ramped up service delivery capabilities in the areas of Mobility, Collaboration and Enterprise Content Management Services, and Application Managed Services (AMS) in the area of Mainframe Modernization and Support.
"We see tremendous demand for mobility services in today's market," said Rakesh Chitradurga, Stefanini Global Vice President, Application Services. "Stefanini provides a credible alternative to traditional offshore models with our flexible nearshore mobile development capabilities," said Chitradurga.
In support of the company's mobility offerings, Stefanini announces an expanded partnership with Kony. Since 2013, Stefanini has been providing multi-channel, Mobile Application Development Services based on the Kony Development Cloud platform. Stefanini and Kony have now broadened their relationship to include the Kony Management Cloud, Kony's industry leading Enterprise Mobility Management (EMM) Suite.
"We see many IT departments struggling to keep up with the mobility management demands of their end users," said Jay White, Director, Enterprise Mobility Practice at Stefanini. "Kony Management Cloud is a natural extension to our mobile application development practice, and will enhance our ability to manage and secure corporate information accessed from mobile devices."
"We're excited to extend our relationship with Stefanini to include our EMM platform," said Keith Katz, Vice President, Management Products at Kony. "This relationship is a win-win for Stefanini, Kony, and our respective clients. Together, we will continue to grow and build applications and platforms that will adapt to trends and overcome challenges in the global device management world."
Stefanini will be exhibiting at Kony World 2014, March 4-7 at the Marriott World Center in Orlando. Attendees are invited to Stefanini's exhibit to learn more about the company's mobility services including Stefanini's Enterprise Mobility Strategy Boot Camp. The 1-day structured workshop provides a detailed overview of mobility within the enterprise, and provides customers with the foundation of their company's enterprise mobility strategy.
About Stefanini
Stefanini is a global IT outsourcing services company with 76 offices in 30 countries across the Americas, Europe, Australia, and Asia. Since 1987, Stefanini has been providing offshore, onshore, and nearshore IT services, including application development services, IT infrastructure outsourcing (help desk support and desktop services), systems integration, consulting, and strategic staffing to Fortune 1000 enterprises around the world. Clients benefit from Stefanini's financial stability, sustained year-over-year growth, and zero net debt. The corporate global headquarters is located in Sao Paulo, Brazil with European headquarters in Brussels and North American headquarters in metropolitan Detroit.
About Kony
Kony is the fastest growing cloud-based mobile application development platform (MADP) in the industry with over 600 live multi-channel apps, serving over 20 million end users across 45 countries. The Kony Experience Platform is an integrated software development lifecycle (SDLC) platform to define, design, develop, test, deploy, and manage multi-channel applications from a single codebase. With Kony, you can deliver stunning user-first experiences, get to market faster, and lower your application TCO. Kony also offers ready-to-run B2E and B2C apps that enable customers to quickly extend their business.
Editorial Contacts
William Riley
Stefanini, Inc.
248-263-5261
william.riley(at)stefanini(dot)com
###