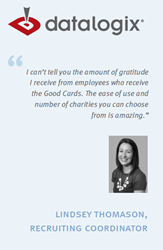 Network for Good has enabled [Datalogix] to tie philanthropy directly into our employee recognition while finding great job candidates.
Washington, DC (PRWEB) March 06, 2014
Network for Good today published a Good Card® case study showing how Datalogix, the data-driven company connecting digital advertising to offline sales, is using charity gift cards to incentivize employee referrals. Datalogix offers a $1,000 Good Card, redeemable as a charitable gift at more than a million charities, to any employee whose referred job candidate joins the Datalogix team.
More than a tchotchke, this charity card allows employees to support causes with personal meaning to them, fostering connection and loyalty to the Datalogix brand. Plus, the company sees the direct impact to its charity partners.
"Network for Good has enabled us to tie philanthropy directly into our employee recognition while finding great job candidates," said Eric Roza, CEO of Datalogix. "Each month, our Datalogix values and referral award recipients allocate thousands of dollars to the charities of their choice, thereby reinforcing the values of excellence, recognition and giving back in a single program."
Datalogix's HR team added the Good Card to their existing referral program to help encourage employees to refer top talent while giving back to the community. The card allows employees to donate to 1.4 million charities, ranging from national nonprofits to local organizations.
"We're thrilled to share this Good Card case study. It highlights another innovative approach that embeds giving into a company's daily business," said Bill Strathmann, CEO of Network for Good. "In this case it's Datalogix's recruiting process and employee culture. We're excited to see other companies follow their lead and to come up with more creative ways to do 'good' business."
Network for Good's Good Card is an easy way for companies to incorporate charity into employee rewards. From Datalogix to Hewlett-Packard, companies big and small use these charity gift cards to foster employee engagement.
Read the full Datalogix Good Card case study here. For more information, visit http://www.networkforgood.org/insights.
About Network for Good
Network for Good works with companies to implement effective cause initiatives powered by our proven donation platform. Network for Good also helps nonprofits raise funds for their missions through simple, affordable, and effective online fundraising services and free training programs. Network for Good has processed over $1 billion in donations for more than 100,000 nonprofits since our 2001 founding by AOL, Cisco, and Yahoo. http://www.networkforgood.org/partner
About Datalogix
Datalogix provides marketing infrastructure for the data-driven era by connecting digital advertising to offline sales. We help leading brands reach audiences of buyers across display, video, mobile and social. DLX ROI® is the industry standard for measuring the offline sales lift resulting from digital marketing campaigns. The company's expertise spans the major consumer segments, including Retail, CPG, and Automotive. For more information, please visit: http://www.datalogix.com/