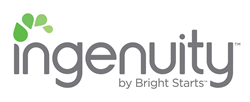 Ingenuity is all about bringing smart solutions home for moms and babies.
(PRWEB) March 04, 2014
Ingenuity™, the brand behind the Washable Playard, introduces its latest breakthrough in the Baby Base 2-in-1™, a baby booster seat with a dishwasher-safe dining tray that grows with baby from infant to toddler. With safety straps for secure seating, the Baby Base attaches to dining chairs for feeding as baby grows. This new Ingenuity seat offers long-term seating solutions and functionality.
"Ingenuity is all about bringing smart solutions home for moms and babies; Baby Base epitomizes that goal," said Ingenuity's Senior Brand Manager, Meredith Robinson. "Since Baby Base is a transitional piece that grows with your child, there's no need to replace it as your baby becomes a toddler. With Baby Base, the next solution is built-in."
Baby Base features a soft, removable foam insert that fits within the contoured seat and can be easily removed as the infant becomes a toddler. A three-point harness keeps the baby comfortably in place, and safety straps attach the seat firmly on the dining chair at home or on the go. Baby Base also comes with a dishwasher-safe, BPA-free tray, which stores under the seat when not in use. The plastic seat and durable soft-foam insert are easy to wipe clean with soap and water after use.
Babies are ready to enjoy Baby Base once they can hold their head up unassisted. Ingenuity's Baby Base is durable enough to support toddlers up to 50 pounds and is available at Target and Target.com for $39.99. It comes in two colors: aqua or magenta.
To learn more about the Baby Base 2-in-1, visit ingenuitybaby.com.
About Ingenuity™
Ingenuity designs and develops the industry's most intuitively-designed gear for babies, with a focus on smart, easy-to-use products that help parents adapt seamlessly to life with a baby. Every design is based on modern styling and technologically-savvy solutions that were designed with parenthood in mind.
Ingenuity is part of the Kids II, Inc. family of brands. To learn more, visit ingenuitybaby.com.
About Kids II®, Inc.
Kids II has a 40-year history of inventing and reinventing baby and infant toys and gear and has quickly become one of the world's fastest growing baby product companies. Driven by innovation and a comprehensive brand portfolio, Kids II designs, markets and distributes more than 400 unique baby and infant products, launching 125 new products a year across the globe. The brand portfolio strength runs deep under the Kids II umbrella, which includes Ingenuity™, Comfort & Harmony™, Bright Starts™, Baby Einstein™, Disney Baby™, Oball™ and Taggies™. Kids II spans the globe by selling products in more than 90 countries and maintains 13 global offices, including international affiliate operations in Australia, Canada, Europe, China, Hong Kong, Japan, Mexico and South Africa. To learn more, visit kidsii.com.