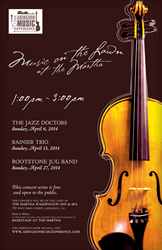 Abingdon, VA (PRWEB) March 06, 2014
A series of classical, jazz and traditional musicians will grace the lawn of the Martha Washington Inn in April to showcase their violin, brass and 1930s charms.
The "Music on the Lawn" program, part of the Abingdon Music Experience, will be held on Sundays in April at the Martha Washington Inn, with the exception of Easter Sunday. The concerts, held from 1-3 p.m., will be free and open to the public. People are encouraged to take a lawn chair, blanket and picnic basket and enjoy the music. The Sisters, which is the restaurant at The Martha, will have food and beverages available inside. In the event of rain, the concerts will be moved indoors to the Backstage at the Martha.
The Jazz Doctors will kick off the concert series on April 6th. After establishing longtime national careers of individual performances and recordings, the musicians, hailing from Johnson City, TN, have been performing as a featured group at jazz festivals. The Jazz Doctors play all styles of jazz from straight-ahead jazz-rock to Latin.
Kevin and Bryan Matheson will be joined by a pianist and perform April 13th as The Rainier Trio. Together, they are known as Classic Strings Duo and have played at the Carnegie Weill Recital Hall.
"Recognized for mesmerizing and spirited performances ... the duo is awakening audiences to music for the violin-viola duo," Jeffrey James, Editor, International Composer, New York City.
The last Sunday will feature a slightly different flavor through traditional music group, Rootstone Jug Band from Roanoke, Va. Around one microphone, they sing the songs with their regional accents, and use a rotating arsenal of guitars, banjos, fiddle, upright bass, washboard, jug, harmonica and more to make a glorious ruckus, in full harmony with the ghosts of 400 years of American Roots Music.
For more details and previews of the musicians, visit http://www.abingdonmusicexperience.com.