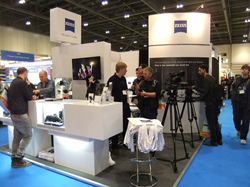 The Prestige Events System certainly stood out amongst the other shell-scheme booths and pop-up stands
Poole, Dorset (PRWEB UK) 4 March 2014
Poole based Exhibition Stand Company, Quadrant2Design, celebrated success last month as five clients exhibited with the Prestige Exhibition System at London Excel's BVE & Cloud Expo Europe shows.
Selection Services, Connexions4London, CenturyLink Technology Solutions and Carl Zeiss Ltd were the five clients exhibiting, and taking advantage of the uniqueness and flexibility of the Prestige System, supplied by Quadrant2Design.
Quadrant2Design's Sales Director Andrew Carney, Marketing Assistant Katie Pascall and newly-appointed Project Manager, Daniela Buckuliakova visited London ExCel on the 26th February to see both of the events in full swing and the Prestige stands in action.
While Cloud Expo Europe is a comprehensive Cloud Computing focused event, BVE is the essential broadcast and production technology event for film makers.
Marketing Assistant, Katie Pascall, says, "This was my first time as an exhibition attendee, so I was very curious as to what other type of modular stands were to be used at the show alongside our Prestige stands."
Quadrant2Design, is the sole UK supplier of the Prestige Events System, which is a modular, expanding frame solution, that allows clients to re-configure their stand for different exhibition spaces.
Katie adds, "The Prestige Events System certainly stood out amongst the other shell-scheme booths and pop-up stands at both of these shows, proving that it really is a unique, 'one-of-a-kind' system. We found that we certainly didn't need our floor plans, because the Prestige System had found a way of finding us with its high-level branding, rotating headers and seamless high-quality graphics."
Both Cloud Expo Europe and BVE were a huge success overall, with an estimated 15,000+ visitors appearing at both of these events.
If you would like to find out more about Quadrant2Design, visit: http://www.prestige-system.com . Email enquiries can be sent to [email protected] All design ideas and proposals are free of charge and obligation.