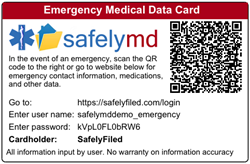 Give yourself every possible advantage - especially in an emergency.
Chicago and Champaign, IL (PRWEB) March 06, 2014
An emergency trip to the hospital is less chaotic with a new product designed to let EMTs and emergency room personnel know what medical issues they are dealing with. Offered for a limited time at no cost and developed by SafelyFiled.com, LLC, SafelyMD (the MD stands for Medical Data), provides a medical data card that quickly makes key medical and contact data available to emergency medical personnel in an instant. Quick access to information on allergies, medications and medical conditions could save lives. Go to http://www.safelyfiled.com, http://www.safelymd.com or Introducing SafelyMD to sign up or get details.
"We've all seen TV shows with paramedics coming to someone's home or arriving at the scene of a car crash, saving a life," explains Mark Snow, SafelyFiled's CEO. "But when that happens in real life, the people there aren't observers, watching a TV show. They are all involved, often trying to answer questions about medical conditions, medications and allergies. Even the calmest are pressed to answer all these questions correctly. I know. This happened to me."
This is high-tech made easy. Using advanced organizing, security and sharing technology, SafelyMD provides each family member with his or her own web page and an easy-to-use form, filled out online. The form guides the user to provide information on emergency contacts, medications, allergies and important medical conditions. Family members are encouraged to help fill out the form for elderly parents or grandparents. The form can be easily updated when medical conditions, medications and contact information change. And SafelyMD provides extra space to upload other documents, like Healthcare Powers of Attorney and Resuscitation Orders, which are often very hard to locate during a crisis.
How It Works
Once the form is filled out SafelyMD lets the user print a credit-card-sized card for his or her wallet, purse, glove compartment or refrigerator door. The cards display a unique QR code and other information. (A QR code is a two-dimensional bar code that looks like a checkerboard.) Medical personnel, with a QR code reader on their smart phone or tablet and an Internet connection, can quickly and securely access the information made available. (The information can also be accessed if there is no QR reader.) Users can purchase a permanent, durable card with the same QR code and other data. And they can also update their information at any time without having to print or buy new cards.
"SafelyMD works anywhere in the world where the Internet is available," said Mark Snow. "A person could be in a hospital while on vacation in Cancun or on a business trip to Hong Kong and the medical staff there could access his or her information the same way the emergency room staff in the local hospital would. The information made available through the card gives a cardholder an advantage – it might save a life."
Having emergency medical data and contact information available for young children and college students, a spouse and elderly parents provides peace of mind. Coupled with SafelyFiled's organization, storage and sharing system for important family documents, families can be prepared for emergencies and also keep their day-to day financial and legal responsibilities easily organized.
About SafelyFiled
SafelyFiled.com, LLC (SafelyFiled) is an Illinois company with offices in Champaign, Illinois and in the Chicago, Illinois area. Founded in 2011, SafelyFiled offers highly secure, online document storage, organization and sharing services for individuals, families and small businesses. It is the easiest to use and most organized service of its kind available. SafelyFiled also offers both white label sites and application licensing. With users based in the United States and other nations, a SafelyFiled account is accessible from anywhere in the world.
For Additional Information:
SafelyFiled Media Contact:
Mark Snow
CEO, SafelyFiled.com, LLC
888-686-3111 x 701
mark(dot)snow(at)safelyfiled(dot)com
info(at)safelyfiled(dot)com
Press Center: https://safelyfiled.com/home/press
https://www.safelyfiled.com
https://www.safelymd.com