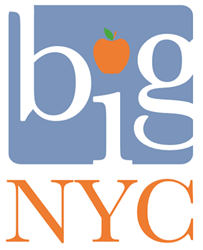 'We are thrilled to bring the experience of B.I.G. to the women of New York City,' said B.I.G. Founder and CEO Tara Gilvar.
New York, NY (PRWEB) March 10, 2014
B.I.G. (Believe, Inspire, Grow) Brings Its Successful Suburban Program to Manhattan on Friday, April 11th and Kicks Offs Its Empowerment Luncheon Series and Membership Program for the Women of New York City.
For smart women who don't desire to "Lean In," but instead seek a more ordinary, but truly fulfilling life; One that gives both their head and their heart true satisfaction and earns them a genuine quality of life; Help is on the way.
B.I.G. (Believe, Inspire, Grow), a women's networking organization, has been steadily creating safe and supportive environments since 2009, where women can gain positive peer support, valuable business and professional information and build authentic and true relationships with other women who share similar life goals. To date, nearly 2,000 suburban women throughout the Northeast and Midwest have participated as members of B.I.G. and the numbers are rapidly increasing.
On Friday, April 11, 2014, B.I.G. will bring this supportive community to the women of Manhattan with a kick-off luncheon event and Inspirational Speakers' Series at Metlife's Headquarters in Bryant Park.
"We are thrilled to bring the experience of B.I.G. to the women of New York City," said B.I.G. Founder and CEO Tara Gilvar. "Women have an innate desire to connect with each other, share their life experiences, both good and bad and offer sincere and relevant insights and wisdom with each. By providing safe and supportive environments where these validating and productive relationships can begin, we witness regularly who (how?) our B.I.G. communities help professional women at all stages in their lives acquire more confidence, make more connections and move forward toward their personal and professional goals more quickly."
"The Lightening pace of Manhattan can often create a highly competitive and cold environment for women seeking true fulfillment in their lives," says FFG's Veronica Cabezas. "We are very confident that professional and entrepreneurial New York women will find the B.I.G. experience to be a welcome relief and will fully embrace this positive and supportive culture as a new way to pursue their professional goals. We are excited to be at the forefront of this great opportunity."
One of the many B.I.G. members who shares Gilvar's vision is New York Times Best Selling Author and the Former Love and Money Columnist at The New York Times Ellyn Spragins, who has been actively involved in the B.I.G. organization for several years.
Spragins observed, "The grim atmosphere of competitive self-interest common to such women's groups is absent. B.I.G. ladies seem to really want to help each other. They also exude joyful anticipation about what's ahead."
Featured at the B.I.G. NYC Kick-Off Speakers' Series will be National Humorous Motivational Speaker and Author Tami Evans, who will speak about the "Power of Gratitude" in achieving professional goals. Also joining the event will be Katherine Dickson, an ordinary woman who will share her extraordinary story about how gratitude led her to her latest career on Broadway.
Following the April11th event, participating women will have the opportunity to become members of the B.I.G. organization and attend monthly "pod" meetings being establishing in communities throughout Manhattan, as well as attend additional Speaker Series Luncheons being scheduled at MetLife Headquarters throughout the year.
About B.I.G. (Believe, Inspire, Grow)
B.I.G. offers a safe and supportive gateway for women at all stages in their professional journey, even those who are not currently active in the workplace, to explore their true passions, discover their life's purpose and gain the confidence and information they need to move their life goals forward.
About Financial Focus Group
Financial Focus Group is a financial services firm designed to help our clients build a strong financial future. We provide timely and informative advice that empowers our clients when making financial decisions that can impact their lives and the lives of the ones they love.