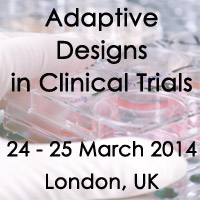 London (PRWEB UK) 4 March 2014
"It's no secret that developing a new drug or medical device is an expensive and time-consuming endeavour. However, adaptive design clinical trials can give sponsor companies the flexibility to make changes to a trial in progress without compromising the validity of its findings. This flexibility can help make trials more efficient, increase their chances of success, reduce costs and time to market, and help increase opportunities for patients participating to benefit from the treatments being studied, which could also help boost trial recruitment efforts in the long run." - http://bit.ly/1fXoTVK
To help professionals better understand how adaptive design trials can improve trial outcomes and reduce costs, SMi is hosting the 8th Adaptive Designs in Clinical Trials conference, taking place in London on the 24th and 25th March.
This conference will bring together industry experts such as:

Baldur Magnusson, Statistician, IIS-Translational Sciences, Novartis International AG
Christopher Jennison, Professor of Statistics and Dean of the Faculty of Science, University of Sheffield
Lisa Hampson, Research Associate in Medical Statistics, University Of Bristol
Arne Ring, Head of the Statistics and Modelling Group, University Of Oxford
Loic Darchy, Senior Statistician, Sanofi Aventis
Michael Krams, VP - Head of Neurology Franchise, Johnson & Johnson
Pantelis Vlachos, Principal Biostatistician, Cytel
Frank Fleischer, Teamleader Clinical Biostatistics, Boehringer-Ingelheim
Graeme Archer, Director, Quantitative Sciences, GlaxoSmithKline
Jurgen Hummel, Associate Statistical Science Director, PPD
Lilla Di Scala, Senior Statistical Scientist, Actelion Pharmaceuticals
Mats Kvarnstrom, Principal Statistician, AstraZeneca
There are only three weeks to register for this conference so we advise to secure your place today. For more information on the programme and speakers, please visit the website.